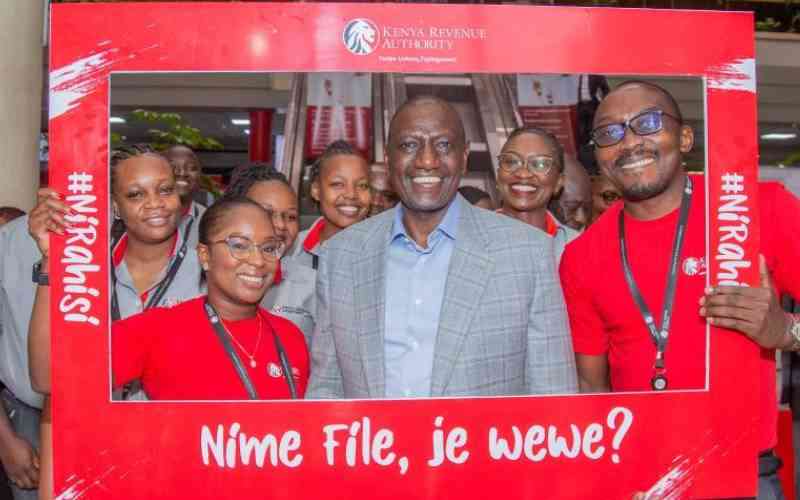 President William Ruto's stunning charge that rogue workers at the Kenya Revenue Authority (KRA) are colluding with tax evaders has renewed calls for a clean-up of the tax agency.
The President said there is an elaborate tax evasion syndicate involving rogue KRA employees, warning this could partly be the missing link in the taxman's failure to achieve targets.
The warning is the latest from successive heads of government and the most serious allegation levelled against KRA.
President Ruto indicated on Friday that other than taxpayers' apathy, corruption within KRA had made it difficult for the government to collect revenues to its full potential.
Saturday Standard has learned that on the radar of investigative agencies seeking to crack the syndicate include senior managers at KRA, some board members and low-ranking staff.
Sources in the government said rogue businessmen have been colluding with KRA officers to manipulate KRA systems to reduce tax liabilities.
The sophisticated cartels launch the schemes during tax audits and compliance checks for firms with pending bills.
They then lure KRA officers and offer them bribes in exchange for reduction of tax payable.
"Collusion, wanton bribe-taking and general corruption continue to pervade operations of KRA, facilitating tax evasion, massive leakages of potential revenue and inability to meet revenue targets," said Ruto while filing his tax returns at KRA headquarters on Friday.
KRA, which has perennially missed tax targets, has been under pressure to seal revenue leaks against the backdrop of higher collection targets set by the government.
So powerful are the cartels that successive governments have failed to rein them in.
In 2015, former President Uhuru Kenyatta ordered that all KRA staff undergo a compulsory lifestyle audit to account for their sources of wealth.
This followed financial scandals that had rocked KRA with revelations that millions of shillings were lost through corrupt deals that involved its officials.
No public information was ever provided on the audit findings.
Ruto yesterday expressed his frustration with KRA's failure to reach targets.
He maintained the taxman must put its house in order to help his government deliver on its promises.
"As I mentioned during the Annual Taxpayers' Week, the Kenya Revenue Authority has some way to go in becoming the fit-for-purpose national revenue administration agency that Kenya needs at this point in our development journey," he said.
Related Topics