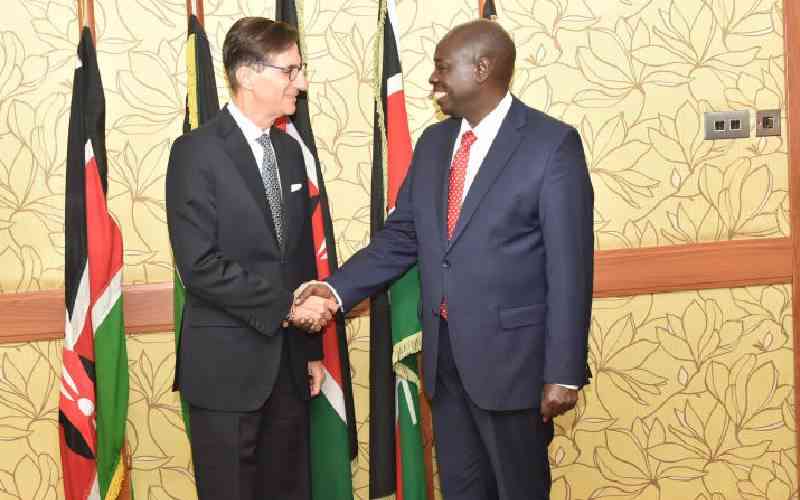 The World Bank is lending Kenya an additional Sh32.5 billion raising the amount agreed for budget support to $1 billion (Sh129.9 billion).
The increase - from $750 million (Sh97.4 billion) agreed late last year - is part of the World Bank's Development Policy Operation (DPO) framework with the country.
This loan will be expected to "promote sustainable, resilient and inclusive growth" for Kenya, said Treasury Cabinet Secretary Njuguna Ndung'u in December, and increase the stock of external debt, which crossed Sh4.35 trillion in October 2022.
It will be the fifth disbursement to Kenya under the DPO framework.
The government also expects to plug in the budget deficit with this new concessional loan, which it plans to slash to 4.3 per cent of GDP in the 2023/24 financial year from over 5.8 per cent (of GDP) estimated in the first few months of its reign.
"The program development objective is to enhance sustainable, inclusive and green growth by creating fiscal space in a sustainable manner, increasing competitiveness to boost exports in agriculture and improving governance to facilitate inclusive private sector-led development," the lender noted.
The loan awaits approval of the World Bank board before disbursement which should be before the end of Kenya's current fiscal year in June.
Amid a weakening shilling against major currencies, the country has experienced high costs of living as inflation climbed back above 9 per cent in February.
Official reserves have dwindled drastically in past months, with the country, which is a net importer, seeing importers incur huge costs when buying the dollar in parallel markets.
Fuelled in part by the rise of interest rates by the US Federal Reserve, foreign investors have also fled, or shown hesitance in making and sustaining local investments, said the Capital Markets Authority(CMA) recently.
According to the latest data from the CBK, Kenya's usable foreign reserves stood at $6.56 billion (Sh852 billion) as at March 9, 2023. This is equivalent to 3.67 months of import cover and less than the CBK target of four months.
Related Topics