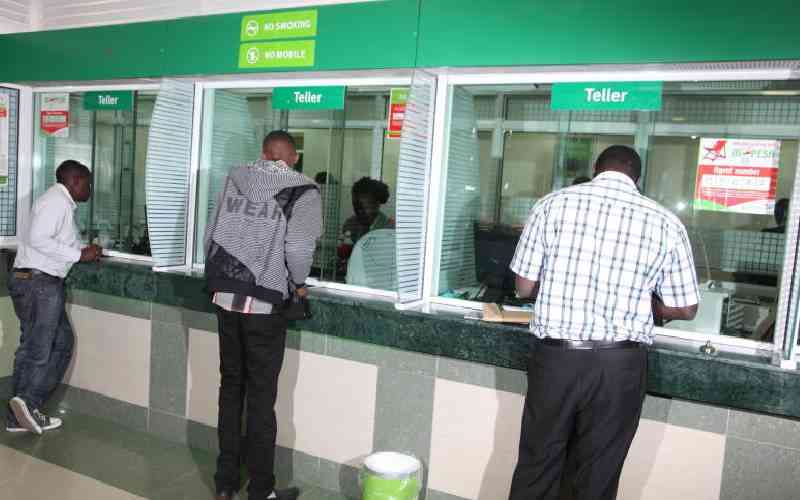 Kenyans seem to be going back to human contact when accessing services from banks, a new survey by the bankers' lobby, Kenya Bankers Association (KBA) shows.
The results of the Consumer Satisfaction Survey released yesterday show that the percentage of customers preferring services at bank branches increased from seven per cent in 2021 to 17.64 in 2022.
Agency banking also increased from two per cent to 6.06 per cent in the same period. The study showed steady growth in the last four years of customers preferring fully automated or self-service modes like mobile, internet and chatbots.
In 2022, the survey says, 45.6 per cent preferred an automated mode of interaction compared to 46.7 per cent in 2021 and 43 per cent in 2020. "Some 15.5 per cent of the respondents preferred human-assisted service (including call centres and branches), compared to 12.8 per cent in 2021 and 16 per cent in 2020, denoting a reversal of the downward trajectory," said the survey report.
"Those who are indifferent to the use of either slightly declined to 38.9 per cent in 2022 compared to 40.5 per cent in 2021 and 40 per cent in 2020."
Customer satisfaction
The survey also ranked the banks for their services, where Co-operative Bank of Kenya was named overall best in customer satisfaction. It was followed by Family Bank and KCB Bank.
In the Tier I category, Co-operative Bank maintained the top position, followed by KCB Bank and Standard Chartered Bank in position three.
Family Bank emerged best in the Tier II category with National Bank and Prime Bank taking the second and third positions respectively.
ABC Bank topped in the Tier III category while Sidian and Credit Bank took the second and third positions. "This re-affirms our position as the financial institution offering the most fulfilling customer experience in the industry," said Co-op Bank in a statement.
The annual KBA survey was initiated in 2018 as part of efforts towards enhancing customer experience in the banking industry.
The survey was conducted late last year amid the clamour for enhanced support towards economic recovery. It interviewed over 33,000 customers of all member banks of KBA. Co-op Bank was also recognised with the 'Excellence in Customer Experience in Digital Banking' award at the Digibank Summit held recently.
Although the impact of Covid-19 on the economy had abated significantly in the year under review, its adverse effects continued to linger in the economy, necessitating individual and collective strategies towards maintaining high product and service standards, said KBA.
Even with the somewhat reversal to human interaction for banking services, mobile banking still led as the most preferred banking channel at 67.83 per cent in 2022 followed by online and internet banking at 23.33 per cent and bank branches at 17.64 per cent. ATM follows at 16.84 per cent.
Mobile banking was at 58.4 in 2021 while ATM was 9.7 per cent. The survey paid special attention to access to banking services among persons living with disabilities.
It noted that in the 2022 survey, 13.8 per cent of the respondents needed special accommodation with the use of aids like braille, ramp, screen reader, and voice to access banking services.
"Out of the respondents' 93.5 per cent were able to use the banking services (e.g. Mobile banking and online banking) independently, a significant improvement from the 2020 and 2021 level where 78 per cent and 81 per cent, respectively, could access services independently," the survey reads. "However, 6.5 per cent of customers with special needs reported requiring support in accessing banking services."
KBA Chief Executive Habil Olaka emphasised the need for banks to find ways of accommodating persons living with disabilities. "Considering the privacy required while conducting banking services, the banking industry is putting strategies in place to ensure full independent access to banking service for persons with disabilities,'' he said.
Dr Olaka said over 30 banks are in the course of implementing a harmonised banking industry accessibility roadmap that seeks to address accessibility challenges.
Related Topics