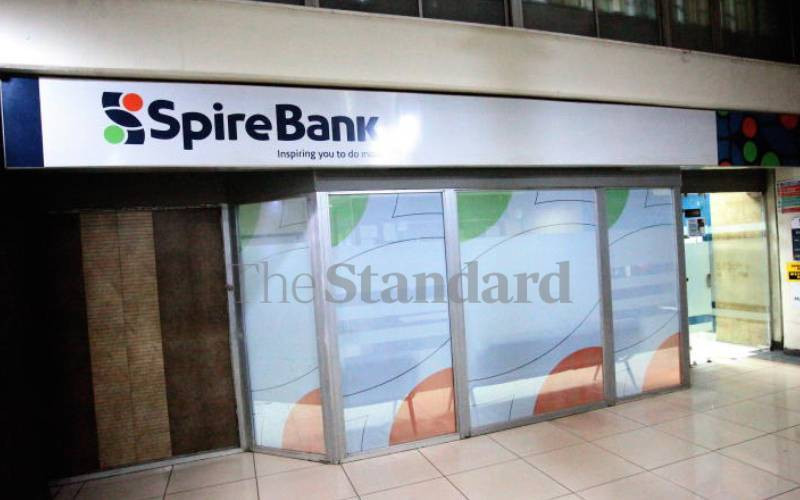 The government has finally approved the sale of Spire Bank to Equity Bank, offering a lifeline to the troubled lender and a new business leaf for Kenya's largest lender.
The deal will see Equity, which has a Sh1.3 trillion asset base, take over Sh945 million in loan assets and deposit liabilities of Sh1.3 billion from the struggling Spire Bank, which is owned by teachers through Mwalimu Sacco.
Central Bank of Kenya (CBK) Govenor Patrick Njoroge said yesterday the National Treasury had given its seal of approval, paving way for Equity to take over the bank.
"The Cabinet Secretary National Treasury on January 24, 2023 approved the acquisition of certain assets and liabilities of Spire Bank by Equity Bank," said Dr Njoroge in a notice published in the Kenya Gazette.
"The acquisition shall take effect on January 31, 2023."
While backing the deal earlier, Njoroge said it enhances the stability of the Kenyan banking sector.
Equity Group Chief Executive James Mwangi also said earlier the purchase of Spire Bank will help Equity lock in over 100,000 teachers spread across the country, and help access its services through their branches.
Equity says it processes total monthly remittance of Sh1.8 billion in teachers' salaries.
"Equity Bank will take on Spire Bank's 20,000 existing depositors with a deposit of approximately Sh1.322 billion and approximately 3,700 loan customers with a loan book of approximately Sh945 million," Mwangi said last year after signing the deal.
Teachers have undergone financial pain with the troubled loss making lender having pumped - through Mwalimu Sacco - billions of shillings into the bank bought from the late Naushad Merali in 2015 for Sh2.4 billion.
Spire Bank accumulated losses of Sh9 billion, including a Sh3.4 billion conversion of teachers' deposits into equity, that wiped out shareholder funds.
The bank has breached all the other minimum capital thresholds and has been operating on the forbearance of the CBK as it seeks a buyer.
It had until now struggled to get a strategic buyer to inject much-needed capital, with suitors walking out at the last minute.
Spire Bank, formerly known as Equatorial Commercial Bank (ECB), started operations in 1984 as a non-bank financial institution and converted into a commercial bank on December 13, 1995.
ECB and Southern Credit Banking Corporation merged their respective businesses on June 1, 2010 and retained the name ECB.
In December 2014, Mwalimu National Cooperative Savings and Credit Society Limited (Mwalimu National) acquired a majority stake in ECB.
The lender changed its name to Spire Bank on May 20, 2016.
Amidst persisting concerns about the bank's health, Mwalimu Sacco executives pushed on with the controversial deal.
They bought 75 per cent of the bank for Sh2.4 billion in 2015 and later the remaining 25 per cent in November 2020.
The Sacco has been supporting Spire Bank after it accumulated losses.
Some MPs recently questioned the sale of Spire Bank to Equity, with Molo MP Kimani Kuria saying the deal risked endangering the teachers' investments in Mwalimu Sacco just like previous controversial deals.
Related Topics