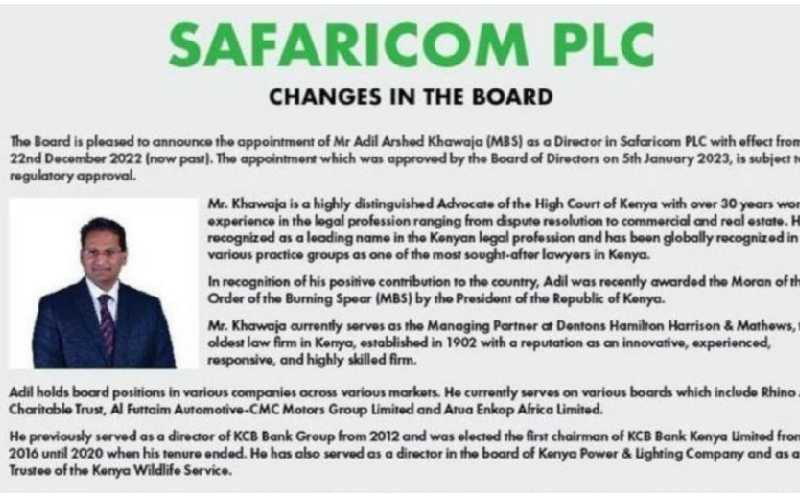 City lawyer Adil Arshed Khawaja has been elected as the chairman of the Safaricom board with effect from January 26, 2023, the board has announced through company secretary Kathryne Maundu.
Three weeks ago, Mr Khawaja was appointed to the telco's board which also announced the resignation of veteran corporate banker John Ngumi from the board and consequently as the chairman of the board with effect from December 2022.
The announcement was keenly watched by investors, speculation rife that Mr Khawaja, who is the managing partner at Nairobi-based law firm Denton's Hamilton and Mathews could be headed for a bigger office.
Mr Khawaja currently serves on various boards which include Rhino Ark Charitable Trust, Al Futtaim Automotive-CMC Motors Group Ltd and Atua Enkop Africa Ltd.
He previously served as a director of KCB Bank Group as well as Kenya Power and Lighting Company and as a Trustee of KWS.
In the earlier communication, the board said: "The board announces the resignation of Mr John Ngumi as a director and consequently as the chairman of the board with effect from 22nd December 2022. The new Chairman will be elected by the Board of Directors in the coming weeks."
Mr Ngumi had been nominated to the Safaricom board by the National Treasury in its capacity as a 35 per cent shareholder on August 1, 2022.
Sources say he has left to focus on developing green energy projects across Africa.
An ally of former President Uhuru Kenyatta, Ngumi was the chairman during Safaricom's recent commencement of operations in Ethiopia and was also at the helm when Safaricom repositioned its Fuliza product.
His exit from the giant telco marked another career turn for the corporate titan who has served on various State boards over the last 25 years.
Ngumi has a long-standing relationship with Safaricom going back to 1999 when he served as a member of the inaugural board of directors of the Communications Commission of Kenya, now the Communications Authority.
Subsequently, he acted as Safaricom's principal arranger of major financing through the 2000s.
Related Topics