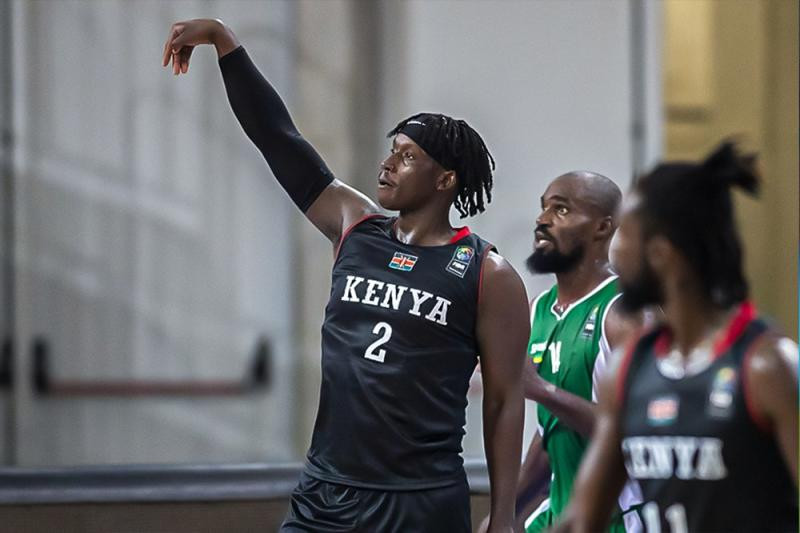 Morans head coach Cliff Owuor has urged his players to focus and take the right shots as Kenya take on Morocco on Thursday in the quarter-finals of the 2023 AfroCan championship currently going on in Angola.
Morans survived a late scare and blow out attempt by Gabon to qualify for the last eight despite losing 66-63 during their final Group A match on Monday.
Losing by three points meant Morans survived relegation to the quarter-finals qualifiers as they finished above Ivory Coast.
Morans had three points with a point difference of seven points followed by Ivory Coast, also with three points, but an inferior point difference of four points.
Owuor said they are keen to avoid any other slip up like they did in their defeat to Gabon.
"We need to focus and take the right shots. We need to make better decisions especially taking shots when the clocks was winding up. We also need a lot of discipline in the offensive game. We do that and we win," said Owuor.
Morans forward Tom Wamukota said they learnt from their mistakes and they will be out for blood against Morroco.
"Shot selection down the stretch and turn overs cost us our game against Gabon. That was the difference in the game and we know what we need to change ahead of the semi-finals.
"We have to be patient with our possession and make the right decisions," Wamukota said.
He also said they have worked on their 3-point shot attempts.
"We made only three 3pointers out of 23 shots which is very poor for us but we have gone back to the drawing board to achieve better shots in the semis.
"The poor shot percentage conversion from the arc will not however deter us from our goal of winning the AfroCan title," said Wamukota.
Wamukota set a new record for most rebounds registered in a FIBA AfroCan game last Saturday, when he helped Kenya beat Cote d'Ivoire 62-52.
Wamukota, who was named to the 2019 AfroCan All-Star team, finished with 19 rebounds.
The previous AfroCan rebounding record belonged to Cote d'Ivoire's Aboubakar Traore who finished with 17 rebounds in an 85-83 loss to Kenya four years ago in Bamako, Mali.
Kenya will be relying on US based Derrick Ogechi for another good show after he previously led Moran's offensive charge.
Ogechi dropped 19 points and eight rebounds to inspire Kenya Morans to an important 62-52 win over Ivory Coast in their opening Group A match before finishing with 16 points in their defeat to Gabon.
Related Topics