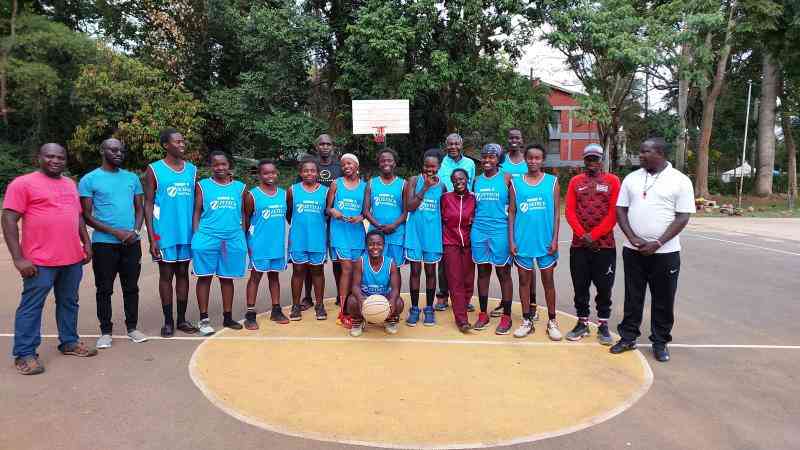 Butere Girls basketball team is making a grand return to the National Secondary School games to redeem their 2018 runner-up position to a title.
The school, representing the Western region at the national games bonanza scheduled to take place from Tuesday to Saturday next week in Eldoret is smarting from a disqualification in 2019.
The girls' basketball had fielded an ineligible player after lifting the Western region trophy.
But the Butere Girls team - which plays in the Kenya Basketball Federation (KBF) League One is going to Eldoret having picked several lessons from among other mistakes the 2018 loss to Kaya Tiwi from the Coast, the 2019 disqualification and what its coach Chris Odeke describes as costly overconfidence.
Odeke, who has coached the team since 2017, yesterday said he was optimistic about beating strong teams at the national games.
Butere will play Ototo Secondary from Nyanza and Kaya Tiwi (representing the Coast region) and a team from North Eastern in Pool A.
At KBF Premier League, Butere Girls took the fourth position last season behind winners Zetech, runners-up USIU, and Strathmore (second runners-up).
"We are coming to the national games for the title. We are facing Kaya Tiwi and if we beat them at the group stages, we will be sure of progressing to the semi-finals," Odeke told Standard Sport.
The tactician said Butere went on to rejig its basket defense and turnovers after the bruising battle for the Western region trophy.
Last year, Butere Girls lost the Western title after underrating teams from the region, according to Odeke.
"We are urging our rivals at the nationals to prepare well because we have worked on our basket defense. This time, we are not underrating any team this time. We will be taking each match at a time. We are playing a team from North Eastern and we can't underestimate them," said Odeke.
He continued: "We were scheduled for the KBF League One playoff this weekend but the national games are too important for Butere Girls and we have had to pull out to allow for adequate time to prepare for the Eldoret games and for our travels.
He thanked Butere Girls administration for supporting the team in its preparations for this year's secondary school games.
Teams from all regions comprising Coast, Nyanza, Western, Central, Nairobi, North Eastern, Nairobi and the hosts, Rift Valley are expected to arrive in Eldoret in readiness for what is shaping up to be a tough battle for national titles and the quest for tickets to represent Kenya at the East African Secondary School competitions later this year.
Related Topics