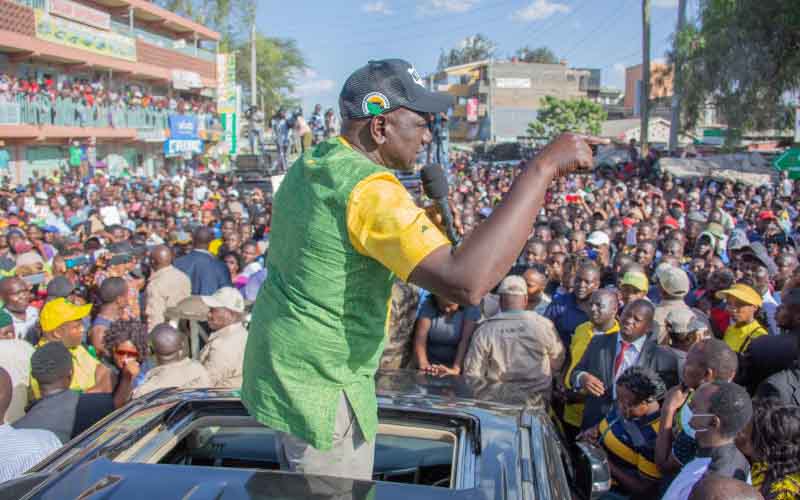 Lost in the United Democratic Alliance's ruckus about President Uhuru Kenyatta being a symbol of national unity, and therefore shouldn't endorse ODM leader Raila Odinga, is the craving for the President's endorsement. The misplaced sense of betrayal in the UDA camp actually stems from that desire. Thus, it is hypocritical for anyone to root for the 2010 Constitution, tout it as the most progressive in the world for guaranteeing an array of human rights and liberties, yet question Uhuru's democratic right to support a person of his choice.
Between 2013 and 2015, it was almost a foregone conclusion that Ruto would succeed President Kenyatta at the end of the two five-year terms as president. It beats imagination how Dr Ruto could lay so much stock in such an arrangement when in Kenya leadership is not hereditary.
Secure in the false knowledge he was the heir apparent, Ruto became conceited and oblivious there could be other individuals coveting the position. However, March 9, 2018 marked the turning point that blew the DP's glass house to smithereens, and he has evidently been nursing a bitterness that appears to cloud his sense of judgement and threatens to derail his ambition to ascend to the apex of power.
What appeared like pebbles on Ruto's road to State House have suddenly become giant boulders that his UDA wheelbarrow and ANC, Ford-Kenya and Safina shovels will be hard pressed to move aside for him to move on with ease. He finds himself in quandary after picking up too many fights with governance institutions that any astute politician would rather have on his or her side: Independent Electoral and Boundaries Commission (IEBC), Directorate of Criminal Investigations (DCI), National Cohesion and Integration Commission (NCIC), the Judiciary, and more importantly, honchos in government.
These are the very institutions and people whose goodwill he requires to get clearance to participate in the August presidential election. There is any number of issues that the institutions can bring up to bar him from contesting if push comes to shove.
Chief among them is the question of whether his conduct brings integrity to the Office of the Deputy President as espoused in Chapter 6 of the Constitution. The integrity of the office of the DP has been put to disrepute, in part, by an ongoing case at The Hague in which the current holder of the office is adversely mentioned in past injustices that mark Kenya's darkest history of election violence. Nevertheless, he remains innocent until proven otherwise. Were this, and other issues already in the public domain, to be revived, Ruto would be vulnerable and helpless. That helplessness is already evident in his deportment. His attacks on President Kenyatta have been scaled down after the latter ignored him.
The futility of a frontal attack on the President has forced the DP to change tack and play into the President's hands. It never dawned on the DP's camp that even a mad man at the market has his own people; that you would hardly attract their wrath until you attack him. Attempts to besmirch the President on his home turf were ill-informed and have backfired. The mountain is slipping away as Ruto watches helplessly, so much that recently, he sent a passionate plea to President Kenyatta not to "hurt" his chances.
That appeal was not only self-effacing and defeatist; the perception it creates is that Ruto has thrown in the towel. He is the proverbial drowning man who clutches at straws for survival. It doesn't help matters for the DP that what the President described as his "unbridled ambition" has landed him in a conundrum.
His desire to build Kenya Kwanza alliance into a political juggernaut puts him between a rock and a hard place. He must decide which, between Central Kenya and Western to let go if the stand by Kakamega Senator Cleophas Malala and Mathira MP Rigathi Gachagua on who must become his running mate is anything to go by.
Related Topics