By Standard Digital Team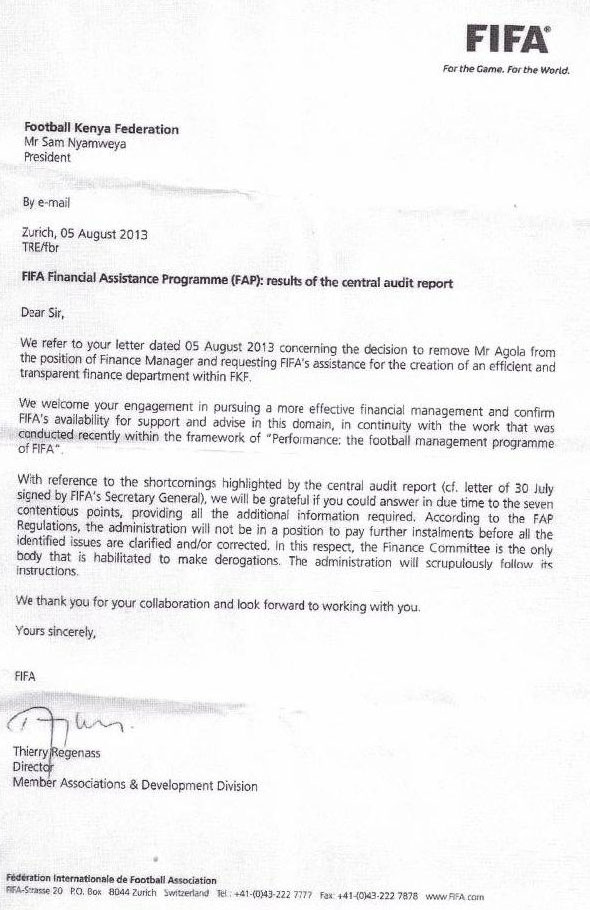 FIFA financial assistance program results of the central audit report
Audit questions have been raised by the world football governing body, FIFA questioning Football Kenya Federation Chairman Sam Nyamweya about funds usage.
FIFA has raised issues with shortcomings highlighted in an audit report which was signed by FIFA secretary general in July this year.
The Letter signed by Thierry Regenass, the FIFA director of member associations and development division wants Nyamweya says: "We will be grateful if you could answer seven contentious points providing all the additional information required. According to the FAP Regulations, the administration will not be in a position to pay further installments before all the identified issues are clarified and or corrected."
It was not immediately clear what were original contentious issues raised about funds and the Kenyan federation.
The letter warns that the administration will scrupulously follow its instructions.
Nyamweya, according to the letter had in a letter dated August 5, 2013 requested FIFA's assistance for the creation of an efficient and transparent finance department within FKF.