NCPB to offer storage services to cut post-harvest losses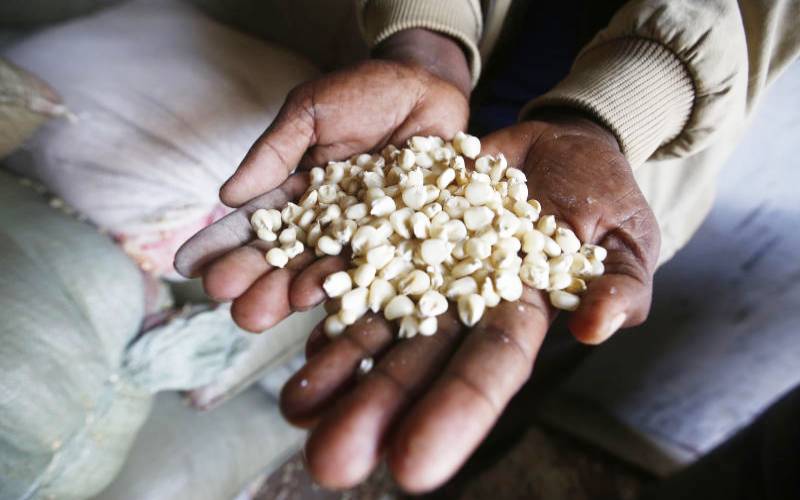 The National Cereals and Produce Board (NCPB) has announced its readiness to offer grain storage services to address post harvest challenges.
The cereals board said it is prepared to receive grains from individual farmers, cooperative societies or other groups for storage under the Warehouse Receipt System (WRS) to maintain quality in readiness for market.
NCPB Managing Director (MD) Joseph Kimote said 58 warehouses and one Silo complex have been certified following completion of a one month inspection between May and June.
"The NCPB is prepared to implement WRS and post-harvest management activities after 58 of its stores completed the inspection and certification process for consideration," said Kimote.
The inspection and certification was carried out by the Agriculture and Food Authority.
Kiomte further said certification of all NCPB stores across the country is continuing to ensure that they conform to the required standards for food storage as per KS 2657:2016 standards on WRS.
Most farmers in parts of the North Rift region are gearing up for the next harvest expected from October and November.
The region has been experiencing heavy rains and it is expected WRS will be in handy for large scale farmers who could wish to store their produce in anticipation of better prices in future.
In a statement to the press on Friday, Kimote said the certified stores are in conformity with the WRS standards of bagged storage of cereals and pulses and the provision of the crop (Foods Crops) Regulations, 2019.
"The NCPB is also offering grain handling and preservation post-harvest services including drying, weighing, grading, aflatoxin testing, fumigation and pest control services," said the MD.
He noted that harvesting of maize has started in some parts of the country and urged farmers to take advantage of the facilities and services to reduce post-harvest losses.
Sources indicate that maize stocks were depleted in NCPB stores. The board did not procure maize supplies from farmers in the last harvest where farmers enjoyed better produce prices offered by traders and millers.
Mr Kimutai Kolum, a large scale maize and wheat farmer in Uasin Gishu county said that if well managed, WRS could be good for farmers in maintaining the quality of their harvests.
"As a maize and wheat farmer, it is my wish that farmers could have also been involved in public participation on how the system will work. It is my prayer that Agriculture Minister Peter Munya also meet farmers," said Kolum.
The board stores are spread in Nairobi Eastern, Northern, South Rift, North Rift, Lake Western and Coast.
Last year, majority farmers sold their produce in the informal market after the disbanded Strategic Food Reserve (SFR) board did not buy produce.
Dr Noah wekesa who headed SFR told The Standard in an interview in January that they were not in a rush to buy maize from farmers who were then enjoying better prices in the market.
He said millers and agents were offering farmers between Sh 3,100 and Sh 3,200 per 90 kg bag in parts of the North Rift region, which he said, was a better deal for farmers.
"We want to allow farmers to get the prevailing price benefit. If SFR was to purchase, it would offer about Sh 2,800 per bag since there would be additional costs of delivering, drying, storing and for gunny bags among others," he said then.
Want to get latest farming tips and videos?
Join Us