Hoax: Coca-Cola not giving out Sh9,000 cash awards to mark anniversary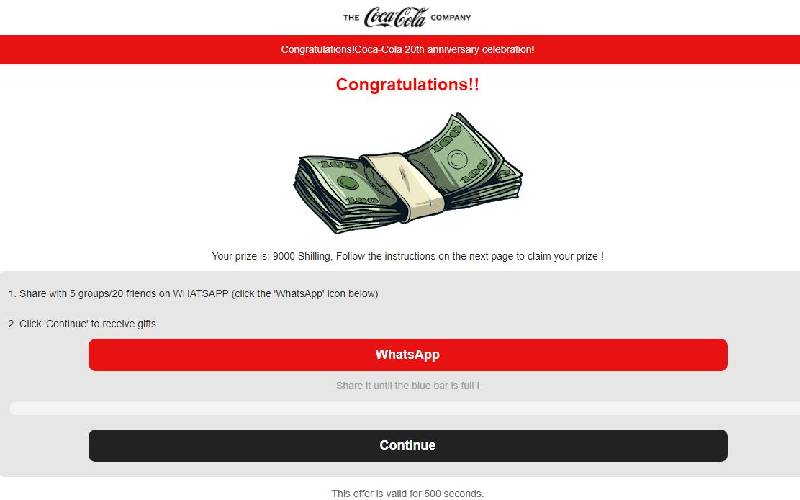 A post circulating on social media claiming that the Coca-Cola company is giving out gift vouchers worth Sh9,000 is a hoax.
The post, circulated on a link in WhatsApp, Facebook and Twitter, claimed that the gifts were being issued out as the company celebrates its 20th Anniversary.
The Standard Fact-Check desk established that on clicking the link requiring you to register for the award, one is asked four key questions among them being if you know of the product, what you think of it, and would you choose to drink the product and your age.
On completing these questions, you are asked to pick a box and one has only three chances to select one.
If lucky, one is notified that they have won themselves a price worth the amount.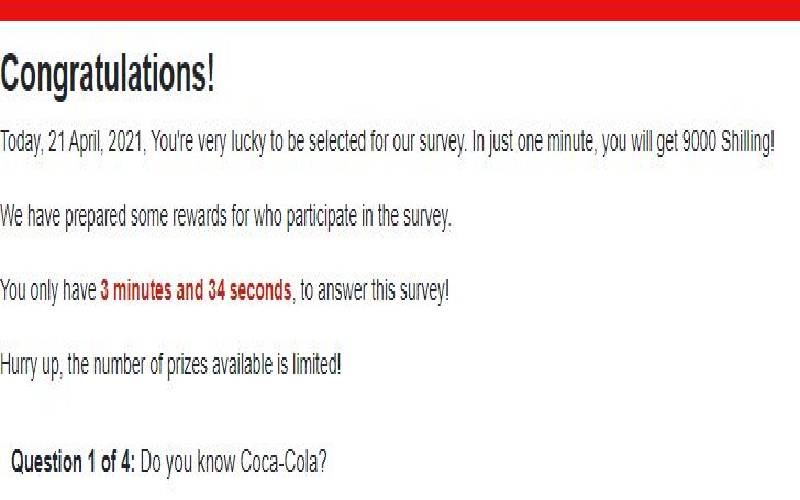 However, for one to receive the amount, they are asked to share the link with at least five friends on 20 groups on WhatsApp.
Take a quick survey and help us improve our website!
Take a survey
On completing the process, one is asked to submit their email address and phone number with no further instructions.
On looking at the link, the original website has coca-cola.co.ke while this hoax link goes with index.php#1618992203280 which is suspicious.
We used our investigative tools to establish who is registered under the domain but the efforts bore no fruits.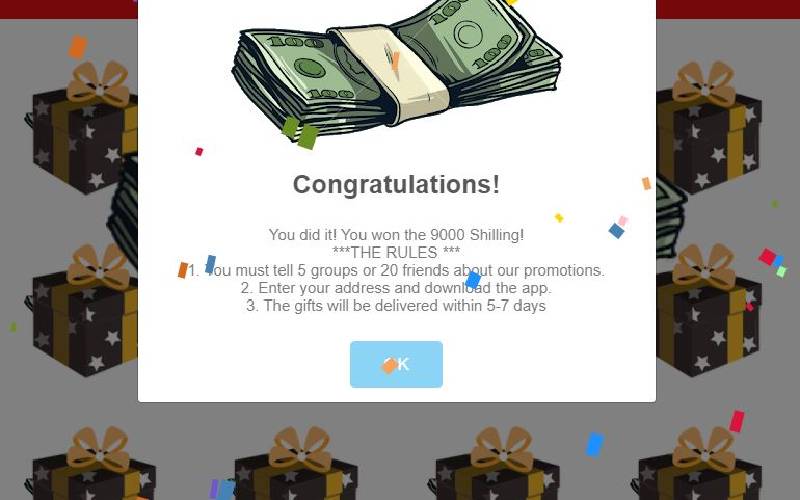 Secondly, Coca-Cola company was established many years back and in May this year, the company will mark its 73 years in the country and not 20 years as alleged in the post.
We reached out to Coca-Cola's corporate affairs office which confirmed that they had seen the hoax link and issued a fake alert to that effect.
To our conclusion, the link has no connection to the Coca-Cola company and those tricked into participating have no chance whatsoever of getting the promised cash.
Nairobi CBD water supply shut down
Nairobi Water Services has confirmed that the supply of water to the entire CBD has been interrupted and the line shut to pave way for repairs.