From cremation to green burials to aquamation: Why the quiet exit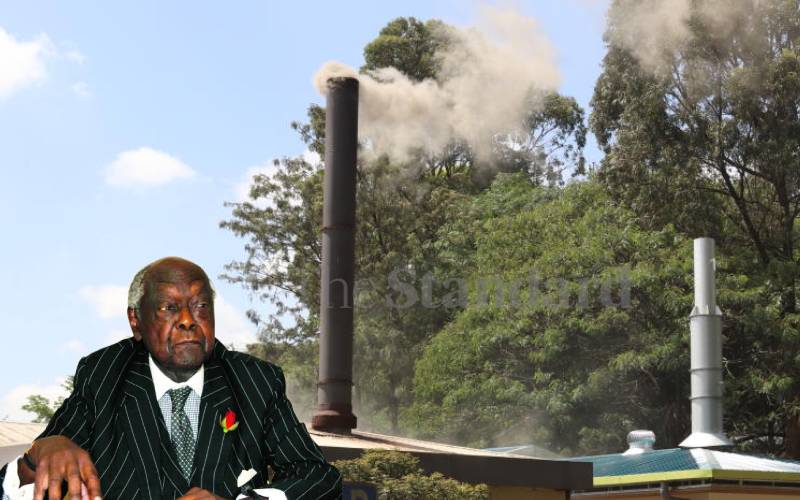 For someone who had lived for a century and a year of a life fuller than most, Charles Mugane Njonjo exited the stage without much of the fanfare that characterised his life. Within hours, Kenya's first indigenous Attorney General had been cremated at the Kariokor Crematorium, according to his instruction.
There was no fanfare. No lavish ceremonies. No long speeches from those who knew him and those who purported to know him. In death, Njonjo maintained the mystery that followed much of his life after public service, a mystery that transcended generations and which will not lift even with his passing.
A man of meticulous planning, his instructions were clear. He was to be cremated soon after death.
"Mr Njonjo had a long career as a civil servant, a lawyer by training. He was clear about instruction and about what he wanted not just in life but in death as well. Part of the instruction was that we must perform a cremation.
"He didn't want a lot of what goes with funerals and passing of people of his stature. He was clear that we must cremate him more or less immediately after he passed. We cremated him at around 10.30am and he is now at rest," his son-in-law and family Spokesperson Carey Ngini told The Standard moment after Njonjo'a cremation.
The former Kikuyu MP had been unwell and breathed his last at 5.15am yesterday. Family members say his passing was peaceful, surrounded by those who loved him most.
"For the 101 years he has seen we thank God for his life. His legacy is intact and all we can do now is rally around his wife, children and grandchildren to try and make sure we try and maintain his legacy," Ngini said.
Njonjo's body arrived at the crematorium at 10.30am where a brief service was conducted before the cremation took place.
The event was attended by less than 20 people, most of whom were high-profile figures in government.
Attorney-General Kihara Kariuki, Senior Counsel Paul Muite, lawyer Yash Pal Ghai and President Uhuru Kenyatta's brother Muhoho Kenyatta accompanied a few relatives to oversee the process.
Muite said the process was kept low key because the family had not arrived at the proper way of breaking the news to Kenyans.
Njonjo adds to the list of prominent individuals who, although have the option of having grand funerals, chose a much simpler, often understated final farewell.
When anti-apartheid hero Desmond Tutu died last week in Cape Town, South Africa, the expectation were that he would be sent off in another of those extravagant services that his stature would demand. However, his wishes were on the contrary.
As a champion for the environment and a critique of many things that he felt were detrimental to the planet, Archbishop Tutu's request were that his final send-off includes a simple pine coffin without any extravagant spending on the ceremony. His remains, he requested, were to undergo aquamation, an eco-friendly alternative to traditional cremation.
Aquamation is defined as a process during which the body undergoes the same process it would as if it were buried in the ground. During the procedure, water, alkaline chemicals and heat are used to accelerate the decomposition process that takes place in nature. The body is loaded into a stainless-steel vessel and filled with a mix of 95 per cent water and 5 per cent alkali.
After the process, only his bones were left, with his instructions that the bones are ground, and the ashes interred at St George's Cathedral in Cape Town.
Archbishop Tutu was not walking on uncharted ground when he chose to make a statement at death. Nobel Laureate Wangari Maathai did the same in 2011. A fierce protector of the environment and a lover of trees, Prof Maathai's last instructions were that her remains be put into one of the most eco-friendly coffins.
As the first African woman to win the Nobel Prize in 2004, her remains were placed in a bamboo-frame coffin, made of water hyacinth and papyrus reeds draped with the Kenyan flag. She lay in that coffin for the duration of her State funeral before being cremated in a private function. Her ashes were then buried at the Wangari Maathai Institute for Peace and Environmental Studies.
Having received one of the highest global accolades, Maathai chose to walk away from the pomp and fanfare that would ordinarily be associated with her death.
With Njonjo and Maathai choosing straight cremation and Tutu opting for aquamation as the final act of their presence on earth, the world remains in search of other methods that speak to or try to solve existential problems perceived to be created by traditional interment.
Former Cabinet Minister Kenneth Matiba and retired Anglican Archbishop Manases Kuria were also cremated as per their wishes.
Some cheaper, others more expensive than the average burial. At the end of it all, it is what ensures one's soul rests in eternal peace.
Proponents of the Mushroom Burial Suit say their product – a type of suit lined with special mushroom spores to consume a dead body – provides the best solution to an eco-friendly burial.
Jae Rhim Lee, founder of the Mushroom Burial Suit, says the mushrooms are specially trained to devour dead human tissue and transmit the nutrients from the body to an intricate network of fungi in the soil, passing on sustenance to the flora.
Some individuals, however, choose to donate their remains to body farms, where bodies are left in the open, without burying to a wide array of scenarios. From swamps, to being left in the open, to being partially devoured by maggots in the open. This choice has been of great value to forensic science.
In some parts of Asia, Buddhists practice a death ritual meant to encourage good Karma. Bodies are taken to burial grounds and left out in the open for vultures to come and feast on. Through this feasting by the vultures, it is believed that what was taken from the world through death is offered back.
Green burials are also catching on. This is where one's body is not embalmed, and no chemicals are injected into the body to preserve it. The body is then placed into a bio-degradable casket, such as the one chosen by Prof Maathai, or is simply wrapped in a cloth. Many green burial grounds are wildlife sanctuaries.
Just as in life, how one decides to be buried remains a deeply personal choice. Often though, in societies highly attached to culture and customs, many of the alternatives to internment such as cremation are initially frowned upon and have been known to cause family strife after death.
But ultimately, the choice of final disposal remains with that to whom the life once belonged.