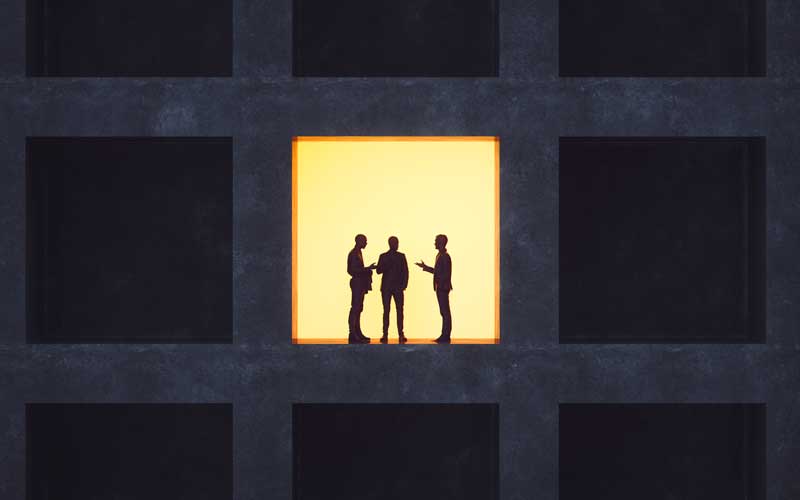 The term 'deep state' conjures up images of a cabal that is the real political power behind the curtains – made up of clandestine networks within the government, intelligence agencies, financial institutions and other entities.
One dictionary defines it as "a body of people, typically influential members of government agencies or the military, believed to be involved in the secret manipulation or control of government policy."
And as such, the recent mention of the shadowy entity has stirred a heated debate over its influence in Kenya's succession politics.
In the words of Deputy President William Ruto, the deep state is plotting to ensure he doesn't succeed President Uhuru Kenyatta in 2022.
Read More
"We are being warned that there is a system, a deep state and people who will steal our votes; that even if you vote, there are people who will decide who wins," Ruto said on August 11 at his Karen residence, falling short of naming names.
It was not the first time he was alluding to such a plot.
In March, during the burial of an Administration Police officer at his office who had been found at his Imara Daima house, Nairobi, Ruto said the officer had been killed by people backed by the 'system'.
"I am aware and it is obvious that there is a huge scheme that has been orchestrated to demean and to destroy my office and to ensure that I do not get anywhere," a defiant Ruto said.
But it is his latest remarks that have elicited the sharpest of reactions. Cotu Secretary General Francis Atwoli and Interior Principal Secretary Karanja Kibicho termed the remarks "outrageous."
While Kibicho denied the existence of the deep state, Atwoli dared Ruto to resign for making the allegations, holding that it was a direct provocation of his boss President Kenyatta.
ODM leader Raila Odinga rebuffed Ruto's claim, saying that Deputy President had inside knowledge of who the 'deep state' he has been referring to is.
Raila said the system the DP accuses of plotting his political downfall is not a faceless entity, and if there was anyone who would know about it, it was Ruto given the stature of his office.
The Deep State, according to the Cambridge dictionary, is "organisations such as military, police, or political groups that are said to work secretly in order to protect particular interests and to rule a country without being elected".
Rule without being elected is operational if not scary term.
The expression is a translation of the Turkish phrase derin devlet referring to a type of governance made up of networks of power operating independent of a state's political leadership in pursuit of their own agenda and goals.
It draws from a secretive network founded in 1923 by Turkey's first modern leader Mustafa Kemal Atatürk.
According to historians, the outfit was to preserve the then current government structure including through coups and assassination of dissenters especially the press and Kurds.
In modern political lexicon, it has been become the preferred epithet of nations dogged by the over-active military and intelligence communities.
American newspaper The New York Times once wrote that it helps to think of the deep state as a political conflict between a nation's leader and its governing institutions.
"That can be deeply destabilising, leading both sides to wield state powers like the security services or courts against one another, corrupting those institutions in the process," it reported.
The Mexican government and the marauding drug cartels are an example of the deep state at work. Numerous scholars and investigative agencies are quoted saying that the cartels have infiltrated official positions in the government and police, effectively making it near-impossible to defeat them.
Author Sarah Chayes, who has investigated corruption in Afghanistan and Nigeria, in her book "Thieves of State: Why Corruption Threatens Global Security" tells how the Egyptian military has been a state-within-a-state with its own businesses and land ownership. It is said to have had a hand in the uprising that led to the resignation of President Hosni Mubarak.
The military and security services also actively undermined President Mohamed Morsi and contributed to the upheaval that culminated in his ouster in a 2013 coup.
The Standard in a special report at the weekend described how authority and power are separated in the face of the deep state.
"Being in office alone does not make one a part of the deep state," it wrote. "More often, you are the servant of the deep state."
The report highlighted how the deep state wields power and control those in authority. It gave an example of how when the Electoral Commission of Kenya chairman Samuel Kivuitu was asked if he was sure President Kibaki had won the 2007 presidential election, he said he didn't.
"I don't know. I was only told to announce that he had won. And I announced," Kivuitu said.
According to the report, in Kenya, the public service is often the powerful wing of the deep state as they have mastered how things are done.
"Kenya has had some very powerful public servants and politicians in the past, whom they want to recognize as part of the deep state in their country," it said.
It went on: "A newly elected president may appoint his Cabinet and other top public officials. When they get to their stations, however, they have to be taught how the system works. But it is not just an innocent system. It is often a system of complex interests. It runs on the fuel of treachery, machination and self-pursuit."
Dr Edwin Wanjawa, who teaches in the School of Humanities and Social Sciences at Pwani University says there is a way to look at the deep state in Kenya – as a threat to democracy, lives and livelihoods.
He says the deep state could be the opaque segments of the public administration that prevent the will of the people from being fully reflected in public policy and law.
"Remember the exploits of the Magaryan brothers? Or the Goldenberg scandal or the servers that have never opened? What about the death of Robert Ouko, Gama Pinto or IEBC's Msando, and currently the Covid-19 millionaires? The reality of the deep state in this vein is more banal, but at once more frightening and dangerous," Dr Wanjawa argued in a commentary.