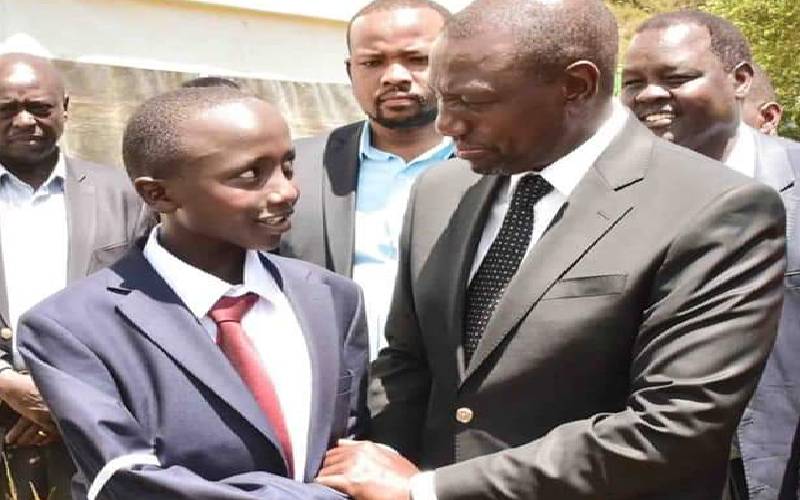 Deputy President William Ruto has claimed that Sergeant Kipyegon Kenei, an AP officer attached to his office was murdered by his political opponents. Speaking on Saturday during Kenei's burial in Rongai Nakuru county, Ruto dared suspects and his opponents to be ready to kill him or prepare a gruelling political battle. "Kenya is for everyone and not for some clique of people, may be you kill me but I will not be cowed with your schemes and threats."
SEE ALSO: Ruto stays clear of row on county revenue but demands fair solution
The viciously angry DP told his opponents he was read to take them head and that no amount of intimidation will stop him. He pledged to the family that he will do everything possible to make sure that Kenei killers are found and justice is done. "I want to assure you that those who killed this boy (Kenei) for any reason will not know no peace until we find them," he said. Ruto accused the Directorate of Criminal Investigations (DCI) of being mobilised to destroy and discredit his office with all manner of nonsense and to bring him down, saying ongoing probe into Kenei's murder was part of the plot by a clique in the system to finish him politically. "DCI has been mobilised, for political reasons, to discredit and destroy my office with all manner nonsense and to bring me down, but there I God in heaven," he said.
SEE ALSO: Uhuru to expel rebel Ruto MPs
Ruto claimed those plotting for his downfall have been all over the place boasting that he (the DP) will not be there soon, but was quick to remind his detractors that the system will not vote, but Kenyans will. "Those in this scheme are boasting that I will not be there soon. Since the system cannot elect anybody, they can only kill," he added. He said he was aware of bad things being plotted against him by his enemies who had roped in the DCI office to help them execute their evil plan. "I know what I am saying, I am not a mad man, I am the Deputy President of Kenya, so if I say there is a scheme to finish me, don't doubt me. DP Ruto spoke after a closed-door meeting with elders and Kenei's family members ahead of the burial ceremony.
SEE ALSO: Ruto allies turn the heat on ODM to give up opposition role to ANC
Kenei's father John Chesang, eulogised his son a sharp young man who did not deserve to die. Labour Cabinet Secretary Simon Chelugui described the Sergeant as a focused person who could not commit suicide as has been reported. Kenei, who worked at Ruto's Harambee House Annex offices as head of security, died under unclear circumstances about two weeks ago. Kinoti said Kenei was murdered, and his body secretly taken to his Imara Daima's house, where it was later found, with a pistol next to it, in a stage-managed suicide scene. "We have evidence to show that he did not shoot himself," Kinoti told the media, "this is case of cold murder. They killed him and tampered with the scene."