By GEORGE ORIDO
Last year, one Cleophas Wakhungu Malala was in the news for wrong reasons.
The Kisii University College students wanted to lynch him allegedly for not dedicating enough time to prepare the institution's drama team for National Drama festivals in Kisumu. At the time, Malala was also producing and directing plays for several other institutions.
But Malala defended himself saying the students had misunderstood what his contract entailed. He says that his duty was to give them a script and help them conceptualise it, adding that the contract did not stop him from offering his services to other institutions.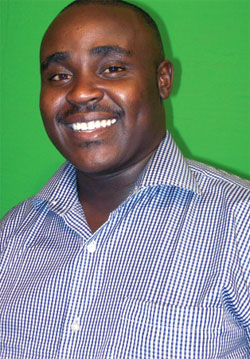 Cleophas Malala. East Africa Media Institute perform the play, Black Rhino the Messiah,written and directed by Cleophas Malala during the just-concluded Nairobi Province National Drama Festival. [PHOTO: GEORGE ORIDO]
Malala belongs to an elite group of scriptwriters and directors whose expertise schools and colleges tap in the production of plays, dances, and choral verses for annual drama festivals.
These directors have, however, since fallen afoul with institutions that cannot afford their services and have labelled Mamulukis (street parlance for mercenaries since they do not teach at the institutions).
Resident lecturer
"What we give to the schools and colleges are professional services that bring the best out of the students. You can liken us to a doctor who has private practice in the evenings after working at his duty station, say, at the Kenyatta National Hospital," explains Malala, who is a resident lecturer at East Africa media Institute.
Today the theatre guru is the most sought after theatre working with numerous schools and colleges. Most of the plays he has written and directed have made it to the prestigious national stage of the Kenyan Schools and Colleges Drama Festivals.
In the just concluded Nairobi Province Colleges edition of the festival, his play Black Rhino the Messiah presented by East Africa Media Institute emerged the best in a tight competition featuring national defending champions Nairobi Aviation and Kenya Institute of Mass Communication.
Black Rhino the Messiah is a metaphor espousing the social ills bedevilling society and vouches for stemming of drug abuse.
The play is set inside an aircraft and is delivered by a strong and talented cast complemented by well thought out costumes and clear directions.
The 25-year-old took the festival by storm in 2005 Scooping top honours with Just 45 Minutes performed by Vihiga High School. Other outstanding productions include The Dirge of Port Lawrence, The Shield, Doomsday, and Dinner at Hell's Gate among others.
His plays explores themes dealing with social issues such crime, murder, abortion, equality, governance
"I also go for child-centred stories, because this festival is about the students. It is never about us," explains Malala.
But how does he direct and produce plays for several institutions at the same time? "Since last year, I formed a consulting company, Next Level Theatre Consultants, where I have a competent team that works directly with the cast," says Malala, who draws his inspiration from Kakamega High School principal Oliver Minishi.
Malala writes the scripts and leaves his assistants to do the directing and only comes in at the polishing stage.He prides himself as a product of the festival and says the same about his colleagues.
The theatre specialist, who is an IT graduate of United States International University, says his parents have also been a source of inspiration to him.
Malala attended St Peters Mumias Boys' Primary between 1995-2000 and later Sunshine Secondary and Friend School Kamusinga.
This year's festivals will be held in Nairobi from April 6. They will be co-hosted by Catholic University of Eastern Africa and Bomas of Kenya.