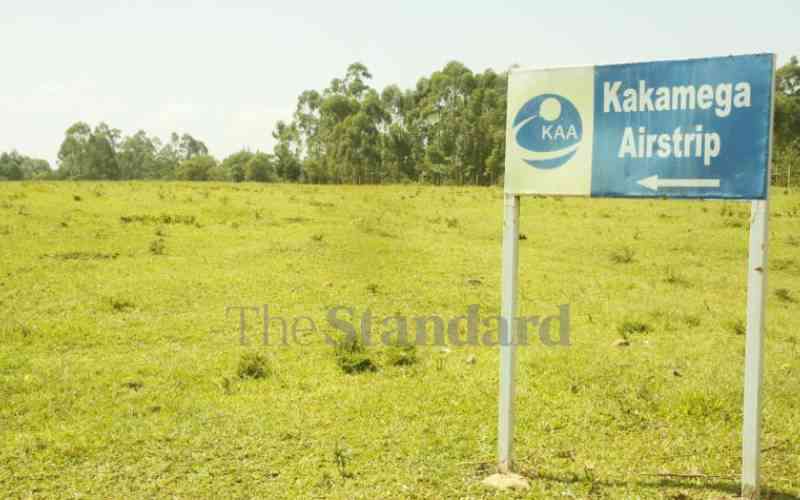 At least 80 families living around the newly opened Kakamega Airstrip in Shinyalu have opposed plans to be resettled on government land.
Speaking at a public participation session at the Lwanda Secondary, they said they want money to move instead of being resettled at Senyende on government-owned land.
"We have agreed to move but are alive to the fact that during various government transitions, people resettled by a previous government are often abandoned like it happened to people living in Mau Forest," said Mark Natili, one of the residents who are to be resettled.
"Let those of us who want to be compensated be paid as those who want alternative land be given the land and titles."
The residents said the expansion of the airstrip was in order and would benefit them just that it should be done with their interests at heart.
They said the expansion of the airstrip to a full airport would especially give youths employment opportunities besides expanding tourism and transport sectors.
Kenya Airport Authority (KAA) spent Sh174m on the renovation of the Kakamega Airstrip after it was closed for renovation in 2013 to upgrade and extend the runway to accommodate larger aircraft.
Initially, the runway was 1.3km long but has since been extended to 2.2km, adding that it requires between 100 and 200 acres for the expansion of the airstrip to full airport.
Leaders who attended the public participation forum led by Kakamega Senator Boni Khalwale, Shinyalu MP Fred Ikana and his Ikolomani counterpart Benard Shinali.
Senator Khalwale said the Kakamega leadership would ensure the locals are fully compensated.
"We are going to ensure that our all people are compensated and we are going to walk in every step of their life, especially those who want to be given money we are going to give them advice on how to spend the money and not to waste it same to those who want to be bought for land," said Khalwale.
Khalwale added that as leaders they will not accept even a single family to be moved and settled out of Kakamega and Western region stating that they do not want some of their people to be squatters.
Ikolomani and Shinyalu MPs said they would push the views of their people to have a proper settlement procedure where those who want land and money are well taken care of to ensure the affected families are given a good place to live and fully compensated.​
They welcome the move by residents to move for construction of the airport stating that it will open up the economy and job opportunities for the region, especially in the tourism sector and transportation of indigenous crops and other raw materials.
Khalwale said minutes of the public participation will be handed over to Kakamega Governor Fernandes Barasa for the availability of land and compensation process, then to the national assembly and senate and later to the President for the construction of the airport.
Related Topics