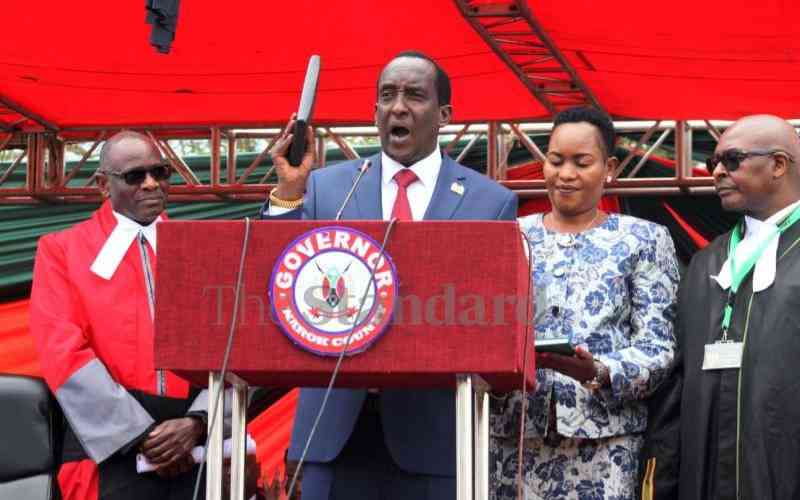 Former Narok North MP Motalel ole Kenta has withdrawn the petition challenging the election of Narok Governor Patrick Ntutu (pictured).
On Monday, the ODM politician wrote to the High Court in Narok to withdraw the election petition citing a decision taken by the Maasai Council of Elders, the clergy, and opinion leaders in the county.
The case was scheduled for hearing on November 14 but Kenta's lawyers led by Prof Tom Ojienda and Parseen Masikonde filed a notice of motion to withdraw the petition.
Mr Masikonde told the court they had instructions from their client to drop the case and issued the notice to Justice Teresia Matheka.
The notice stated in part that: "After the petitioners conferred with their family members, the community, religious leaders and elders, the complainants on their own will and volition chose to withdraw the petition."
The notice further stated that prolonged electoral contestation over the Narok governor election will be prejudicial to the unity, public interest, cohesion, and developmental vision of the Narok people.
The lawyers prayed that the court gives them a date that a ruling shall be made over the same orders.
After receiving the request, Justice Matheka gave the two respondents, Governor Ntutu and the Independent Electoral and Boundaries Commission (IEBC) two days to file their responses.
But the governor's lawyers led by Senior Counsel Kioko Kilukumi and IEBC lawyer Erick Mutua are yet to accept or decline the request.
Kenta and his running mate William Olteitia had challenged Ntutu's election, claiming that the exercise was marred with irregularities.
They claimed that the IEBC, Narok County Returning Officer Sydney Namulungu, Ntutu, and his deputy Tamalinye Koech, conspired to deny him victory.
The withdrawal of the petition was the climax of concerted efforts by the Maasai Council of Elders, the clergy, and local leaders led by ACK Archbishop Jackson ole Sapit that raised concern over the matter that was said to be on the brink of dividing the county.
At the weekend Archbishop Sapit besieged Kenta to withdraw the election petition for the sake of tranquility in the cosmopolitan county.
Governor Ntutu later welcome the move by the Archbishop, saying it was good for the county's development and unity of the people.
Related Topics