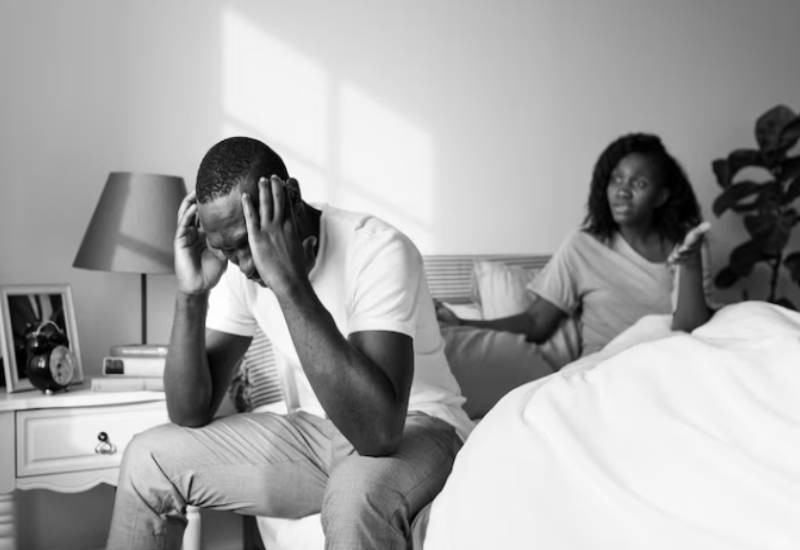 Hi Chris,
My boyfriend is lovely, and I do not want to lose him. But everything ends far too soon whenever we are intimate! He says there is nothing he can do about it, and is beginning to despair. Please help!
Too Soon
Hi Too Soon!
Your problem is so common that it is practically normal. And your boyfriend is right that he cannot consciously control it. But the two of you can quickly sort things out with a little practice.
Start by spending lots of time kissing and cuddling. Nothing more, everything is slow and very gentle. Soft music, low lighting, some nice snacks to indulge in, and no more than a little alcohol.
Touch each other everywhere, so that your bodies gradually become relaxed about all forms of physical contact. The whole point at this stage is to gradually get your bodies to unconsciously feel loose about intimacy, rather than excited or anxious.
As part of your kissing and cuddling, practice being in a love-making position where your bodies are completely relaxed, like the 'spoons.' Side by side with him caressing and holding you from behind. You are getting your bodies used to all the feelings of being close so it takes more than that to take him over the edge.
Take your time getting used to the sensations of all your bits being in the right places, and when you feel that the time is right, make love using the same position you have been practising.
All the time, go on caressing each other with your hands, and if he feels even the tiniest urge, both of you stop moving completely and relax.
Talk about everything together openly and sensitively. And never imply that it is in any way anyone's fault. All that does is make you both tense and anxious, and that won't help at all.
But if you are both open about everything, the problem will soon be solved. And once it is, you will know you are right for one another! Because once you have overcome this problem together, then you know you will be fine if ever something really serious goes wrong in the future.
All the best,
Chris
Related Topics