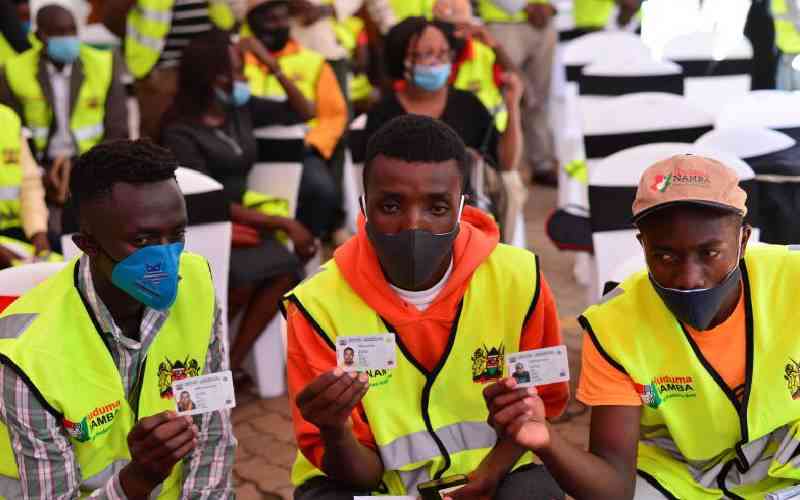 The government has announced faster processing of passports as and begun rolling out online registration of births and deaths.
Interior Cabinet Secretary Kithure Kindiki on Saturday said a broken printer that had led to a one-year delay in issuance of passports had been repaired, even as his ministry seeks to acquire a new one.
Prof Kindiki said the Immigration Department had received 50,000 34-page passport booklets and is expecting 200,000 more next week.
"All eligible applicants for the Kenyan passport are advised that passport booklets are now available in sufficient numbers and processing of passports has been expedited to conform to international standards," Kindiki said in a statement.
"The ministry has set a target of tripling the number of Kenyan passport holders from the current 3.5 million to 10 million in the next five years," he added.
The Sunday Standard has learnt that new applicants could expect passports within 30 days of their application. Kenyans have previously faced delays in acquiring passports.
Further, Kindiki also revealed that the ministry had initiated the process of granting every Kenyan a Unique Personal Identifier (UPI), President William Ruto's version of his predecessor's Huduma Namba.
He said the UPI, granted at birth for all newborns, would enhance online registration of births and deaths, adding that the government would introduce the "Third Generation, smart and digital ID".
"The number... will be the child's personal number in school and later on become their national identity number, social security number, health insurance number and eventually the death certificate number upon which the UPI shall expire," Kindiki stated.
President Ruto recently spoke about reviving former President Uhuru Kenyatta's Huduma Namba programme, which aimed at giving Kenyans a digital identity.
Yesterday, the Interior CS also said he had approved 1,698 applications for citizenship, made between 2018 and 2022.
"Of these, we approved 808 applications made to regain Kenya Citizenship mainly by the Kenyan diaspora who previously opted to renounce Kenya citizenship," he added.
"... I also approved 815 applications for citizenship made by spouses and children of Kenyan citizens... Further, I approved 75 applications for registration as citizen of Kenya made by lawful residents," he went on, adding that he had further signed 19 work permits for foreigners.
He would also reveal an upscale of security systems at the Jomo Kenyatta International Airport and other entry points, through the acquisition of an Advanced Passenger Information (API) system.
He said the API would be integrated into the immigration system to allow immigration officials to profile passengers.
"APIs will be supplemented with the installation of e-Gates at JKIA and our ports of entry."
Related Topics