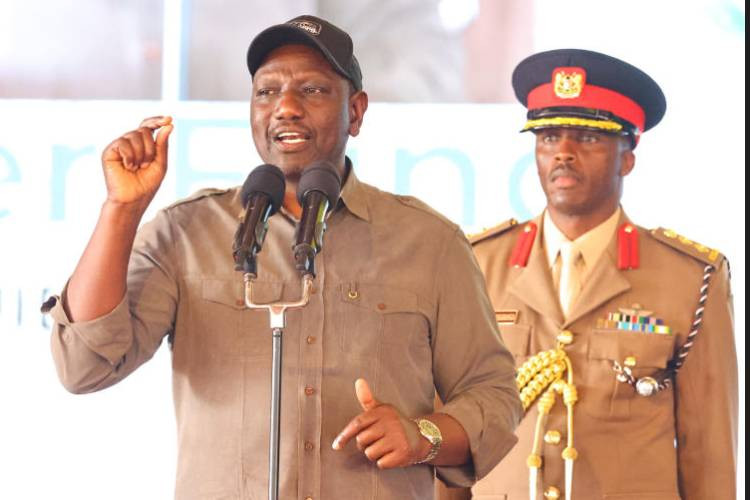 President William Ruto on Friday, December 1 presided over the swearings-in of 51 Principal Secretary appointees.
The function was held at State House, Nairobi.
During his speech, the president asked the new PSs to ensure that they serve all Kenyans equally and with respect.
"The jobs and the responsibilities you have been given are not private positions, neither are they family positions, or community positions. They are positions to serve the entirety of the people of the Republic of Kenya. I will expect every Principal Secretary to work diligently and to the best of their ability," the president told the new PSs after they took the oath of office.
"The single most important asset we have as a country is not oil or gold, silver or bronze, it is the Republic of Kenya's human capital," added Ruto.
"I want to promise you that as your team leader, I will work with each and every one of you so that together we can commit and deliver to the people."
The swearings-in occurred one day after all the PS nominees were approved by the National Assembly.
On Friday night, following their approval by Parliament, President Ruto gazetted the names of the PS appointees.
The first PS appointee to take the oath of office was Julius Korir (State Department for Cabinet Affairs), with the last being Shadrack Mwadime (State Department for Shipping and Maritime Affairs).
Prime Cabinet Secretary Musalia Mudavadi attended the ceremony at State House, Nairobi.
The following is the full list of PS appointees sworn into office on Friday, December 2:
1. Julius Korir – State Department for Cabinet Affairs2. Teresia Mbaika Malokwe – State Department for Devolution3. Esther Ngero – State Department for Performance and Delivery Management4. Aurelia Rono – State Department for Parliamentary Affairs5. Raymond Omollo – State Department for Interior and National Administration6. Mary Muthoni Muriuki – State Department for Correctional Services7. Amb. Julius Bitok – State Department for Citizen Services8. Dr. Chris Kiptoo – The National Treasury9. James Muhati – State Department for Economic Planning10. Patrick Mariro – State Department for Defence11. Korir Sing'oei – State Department for Foreign Affairs12. Roseline Njogu – State Department for Diaspora Affairs13. Amos Gathecha – State Department for Public Service14. Veronica Mueni Nduva – State Department for Gender and Affirmative Action15. Joseph Mungai Mbugua – State Department for Roads16. Mohamed Dhagar – State Department for Transport17. Nixon Korir – State Department for Lands and Physical Planning18. Charles Hinga – State Department for Housing and Urban Development19. Joel Arumonyang – State Department for Public Works20. Prof. Edward Kisiangani – State Department for Broadcasting and Telecommunications21. Eng. John Kipchumba Tanui – ICT and Digital Economy22. Eng. Peter Tum – State Department for Medical Services23. Dr. Joseph Mburu – State Department for Health Standards and Professional Management24. Dr. Belio Kipsang – State Department for Basic Education25. Esther Thaara Muhoria – State Department for TVET26. Beatrice Inyangala – State Departments for Higher Education and Research27. Phillip Kello Harsama – State Department for Crop Development28. Harry Kimutai – State Department for Livestock Development29. Alfred K'Ombundo – State Department for Trade30. Abubakar Hassan – State Department for Investment Promotion31. Juma Mukhwana – State Department for Industry32. Patrick Kiburi Kilemi – State Department for Cooperatives33. Susan Mangeni – State Department for MSMEs Development34. Ismail Madey – State Department for Youth Affairs35. Jonathan Mueke – State Department for Sports and The Arts36. Festus Ngeno – State Department for Environment37. Ephantus Kimotho – State Department for Forestry38. John Ololtuaa – State Department for Tourism39. Sylvia Naseya Muhoro – State Department for Wildlife40. Ummy Mohammed Bashir – State Department for Culture and Heritage41. Dr. Paul Ronoh – State Department for Water and Sanitation42. Gitonga Mugambi – State Department for Irrigation43. Alex Wachira – State Department for Energy44. Mohamed Liban – State Department for Petroleum45. Geoffrey Kaituko – State Department for Labour and Skills Development46. Joseph Mugosi Mutavi – State Department for Social Protection and Senior Citizen Affairs47. Abdi Dubart – State Department for East African Community Development48. Idris Dogota – State Department for The ASALs and Regional Development49. Elijah Mwangi – State Department for Mining50. Betsy Muthoni Njagi – State Department for Blue Economy and Fisheries51. Shadrack Mwadime – State Department for Shipping and Maritime Affairs
Related Topics