Home
/
Money
How I turned working for free into a profitable gig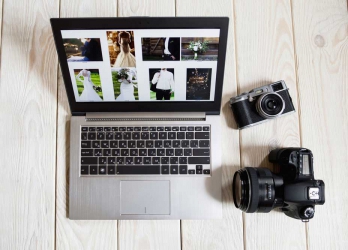 Everyone knows weddings are big business – it's the one day no bride (or groom) wants to get wrong. The venue has got to be perfect, as should the dress, the cake and the food. And then there are the pictures; without great pictures, the day cannot be immortalised. This is where Timothy Katua comes in.
The 32-year-old started his career as an accountant because his elder brothers were all in the finance industry. But he soon discovered a different calling that led him to start a wedding photography business, Katz Photography.
How did you discover photography?
I had a friend who was a photographer and I really liked how he would capture people and events – he had a good eye. His passion and skill inspired me so much that I went out and bought a camera.
However, the camera sat on my table for months doing nothing until my girlfriend (now wife) asked why I'd wasted money buying it. It had cost Sh60,000, which wasn't little money for me. I felt silly, so I took it out and started using it.
What sort of pictures did you start out taking?
Insects, sunsets, grass, trees, anything. Then we had an event at the insurance company where I worked as an accountant and I got the idea to take the camera and see what images I could capture. After the event, I shared the pictures with the office. Everyone really liked them. It then became a constant that when we had events, I'd be asked to take pictures.
Were you paid?
No. It was more for experience than anything else, but it did get me my first paid job. A colleague was getting married and he had hired a professional photographer, but he liked my work. He asked me to take backup pictures and offered to pay me Sh8,000, which was a good bonus, considering my photography was still a hobby. I was even more excited when my colleague told me his wife had preferred my pictures to the ones taken by the professional they had hired.
What was the first professional job you took?
A few months after I did the wedding job for my colleague, one of the directors of the company was getting married. He had seen the previous wedding pictures and liked them.
He hired me and my wife, who had also taken interest in photography, as his official photographers. We were so nervous because we didn't want to mess up such a big day, but we focused and decided to just find the moments and capture them. Thank God our clients were extremely happy. We charged Sh20,000 for that job.
What defines a good picture?
Originally, when we started wedding photography, we thought a good picture was about the quality of the shoot, capturing the bride, the groom and their guests in pre-designed poses. As we continued taking photos, we realised that everything was beginning to look the same. It became boring and routine, so we tried to find a different way to capture memories.
A good picture to me now is one that can never be duplicated, one that is completely and forever unique because it expresses the detailed emotions of the moment.
How do you manage to achieve that with every shoot?
We use a technique we call 'documentary shooting'. We show up on the day and tell the entire story of the wedding from beginning to end without asking anyone to pose for a picture. We capture the moments raw, as and when they happen.
It could be the kiss, the smile on the mother's face, the frown of a bored child, the glee of the flower girl, the waiters carrying in the food, the groom whispering into the bride's ear, the stolen kiss. Natural moments.
But are clients really open to moving away from the traditional style of taking pictures?
That's the point. We target clients who are looking for something different. There are so many photographers in Kenya right now, not to mention that anyone with a phone can take a picture. We like to say we don't want to give you a picture that your uncle with a smartphone can post on Facebook. If you're going to pay for it, allow us to give you something unique.
How much does a client pay for a wedding package?
It ranges. Currently, a standard shoot starts from Sh100,000 per day. I say per day because we have many Asian clients whose weddings can last up to seven days. Those cost more, of course. On top of the costs for the actual shoot, clients can opt for soft copies only or photobooks. Sometimes they also want a wall hanging. Photobooks range from Sh70,000 to Sh100,000. Wall hangings range from Sh10,000 to Sh30,000.
A complete package would be approximately Sh300,000 for a single-day shoot and Sh700,000 for a five-day shoot.
Are you now a full time photographer?
Yes. I quit my job in 2015 to do this full time. It was too overwhelming to manage both photography and a job. But my wife has been running the business full time since 2013 when we did our first wedding shoot.
How many bookings do you get in a year?
In 2014, we did 15 weddings. By 2016, we were at 29 weddings. It took its toll, so this year we decided to put a cap on the number of weddings we will do. Our total bookings this year are four Asian weddings and 14 single-day weddings. We only have three slots left and then we close the bookings.
Won't you be minimising your earnings?
Not really. Because as we target a certain clientele, we can get more and more exclusive, which means we can raise our costs to match the quality of service we give. This year, our minimum cost is Sh100,000. In 2018, it will be Sh140,000 per day. We have already started filling our 2018 calendar.
What's your vision for Katz Photography?
To be different, to constantly reinvent who we are. Most people dream of building a bigger boat, we dream of building a different boat over and over again. It's important for us to keep each wedding personal for each client.
You run a business with your wife, what are the lessons you've learned from that?
It sounds like a cliché, but honestly, family needs to come first. There has to be balance, otherwise you end up working for nothing. You can replace a business any time, but you can never replace your children or the experience you've built with your spouse. My wife and I make a point of separating our business from our family lives, but we have to be deliberate about it. Bottom line, it's been a blessing to run a successful family business.
Related Topics