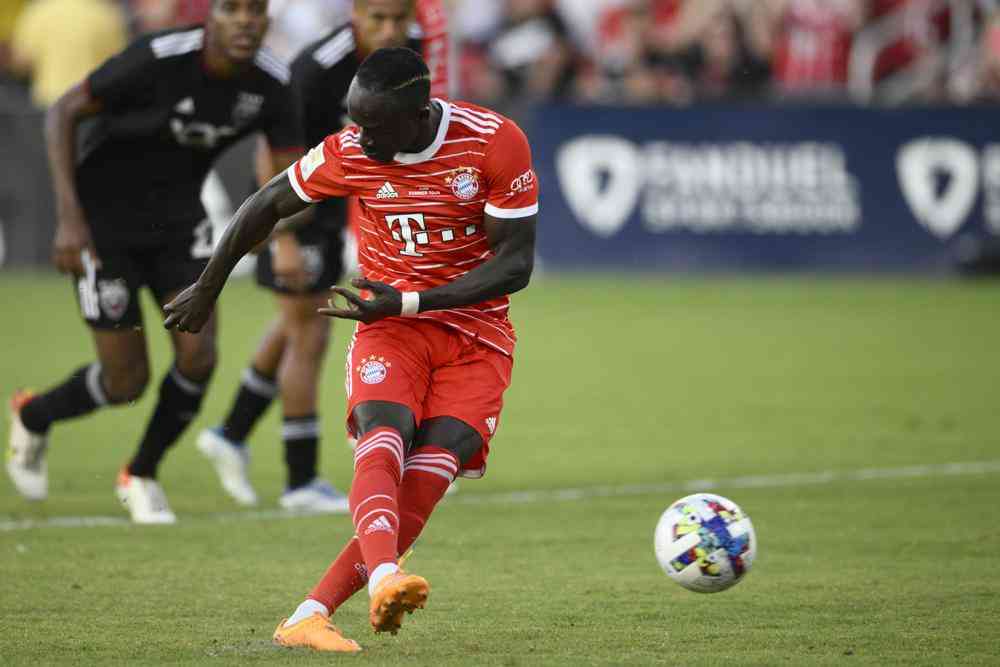 Senegal's all-time top goal scorer and captain Sadio Mane is the highest-earning player in Africa.
The Standard Sports can confirm the former Liverpool star is at the top list of top earners in the continent taking into account the analysis done by Voetbal Travel on which player earns more in 2022.
To satisfy the curiosity over who is paid the most in 2022, Voetbal Travel analysed the salaries of over 32,000 active soccer players from more than 200 countries, mapping each nation's highest-paid soccer star.
The English Premier League is home to 24 countries' best-paid stars, higher than Italian Serie A (18), La Ligue (15), Ligue 1(12), Saudi Professional League (10) and any other soccer leagues in the world.
Africa Top Earners
Transferred from Liverpool FC to Bayern Munich in the latest window, Mane sits top earning a total of Sh50 million Kenyan Shillings (PS363,761) per week which translates to Sh2.6 billion per year (PS18,915,600).
Second, on the list in Africa is Egyptian star and Liverpool striker Mohamed Salah who earns Sh48m per week (PS350,000) and Sh2.5 billion per year (PS18,200,000).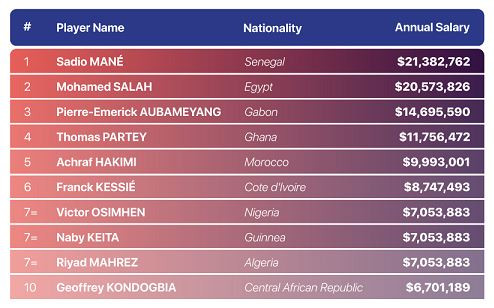 Chelsea striker Pierre-Emerick Aubameyang from Gabon comes third with Sh34m per week (PS250,000) and Sh1.8 billion (PS13,000,000) as Arsenal's Thomas Partey of Ghana comes fourth with Sh27m per week (PS200,000) and Sh1.4 billion (PS10,400,000) per year.
PSG's Achraf Hakimi of Morocco is in 5th place at PS6,240,000 per year while Barcelona's Franck Kessie of Cote d'Ivoire is sixth with a salary of PS7,738,200 per year.
Nigeria's striker, Victor Osimhen, Naby Keita of Guinea and Riyad Mahrez of Algeria are both tied on 7th, earning $7,053,883 apiece.
Geoffrey Kondogbia of the Central African Republic is in 10th position, earning $6,701,189.
World Rankings
Globally, Paris Saint Germain (PSG) has the three most paid strikers in the world earning a combined Sh462 million per week and Sh 22 Billion per year for the trio in wages alone.
France and PSG striker Kylian Mbappe is the highest-paid player earning a whooping Sh207 million per week (PS1,503,161) and Sh11 billion per year (PS78,164,400).
Argentina and former Barcelona legend Lionel Messi is the second most paid player in the world.
Despite the PSG star being 35 years-old, Messi is earning Sh137m per week (PS1,000,000) and Sh7.1 billion per year.
Having lifted Copa America Cup with his team in 2021 and awarded Golden Boot as the top scorer, Messi will once again captain Argentina in Qatar 2022 which is likely to be his last chance to win the World Cup.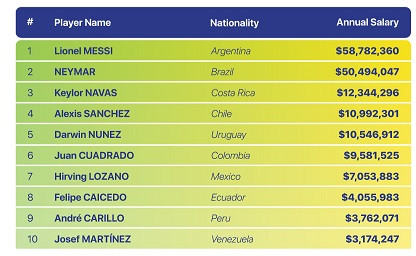 Ranking third is Brazil and PSG's Neymar earning Sh118m per week (PS859,000) and Sh6.1 billion per year (PS44,668,000).
Debuting for the Brazil national team at only 18, Neymar has been capped 119 times and scored 74 goals for his home country.
Manchester United's Cristiano Ronaldo is the highest-paid soccer player in Portugal with a salary of Sh70m per week (PS515,385) and Sh3.6 billion per year (PS26,800,000).
Belgium's current highest-paid player is Real Madrid's midfielder Eden Hazard with Sh3.5 billion (PS26,000,000).
Ranking per Continent
With PSG teammates Kylian Mbappe and Lionel Messi being the world's top two highest-paid soccer players, they ranked as the highest-paid players respectively for Europe and South America.
Considered one of the greatest African players of all time, Senegal's all-time top goal scorer Sadio Mane is the highest-earning player in Africa!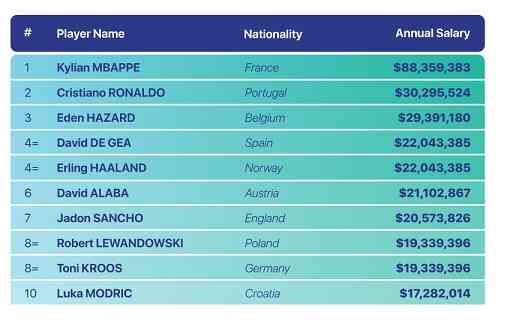 In North America, Chelsea's Christian Pulisic from the United States is the best-paid soccer player, with an annual salary of Sh1 billion (PS7,800,000).
On the other side of the world, Heung-Min Son is crowned the highest-paid Asian soccer player in 2022.
Having played for Tottenham Spurs in the English Premier League for seven years, the South Korean national team captain is earning Sh1.3 billion (PS9,984,000) annually.
New Zealand's leading goal scorer Chris Wood who joined money bags Newcastle United this year is the highest-paid soccer player in Oceania.
Wood who has been playing in the English leagues since 2009 is on a salary of Sh517 million per year (PS4,160,000).
Related Topics