Home
/
Lady Speak
Middle class citizen, please be nice to minnows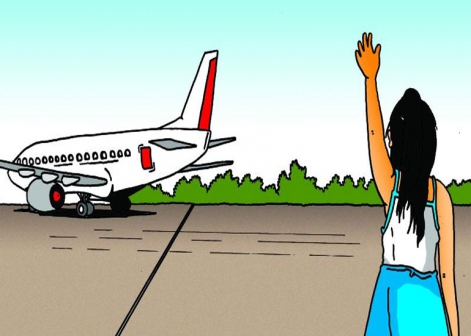 I hope you woke up today feeling funky with no jet lag. I hope your masseuse has not called to cancel your appointment and I also pray that your chauffeur keeps time today. By the way, before this escapes my mind, have you contacted the vet yet?
You know Remmie's appointment is today as well and she has been moody the whole night and since she hasn't barked for 12 hours, she probably has a cold.
Anyway, I am not here today to remind you about your duties, I am here today for my daughter. Yes, you heard me right, my daughter who is your daughter's age mate. She was together with your daughter yesterday at the airport.
Remember your daughter's school trip to Seychelles for five days? The one she was complaining about because she had already been to that country? Yes my friend, yesterday, our daughters met at the airport.
They were both on school trips, only my daughter's school trip ended at the airport. Not because she had forgotten her passport or her ticket but because the airport was her destination.
She arrived at the airport with her classmates three hours to the time your daughter's time of departure. They positioned themselves outside the airport next to the fence, in the scorching sun as they waited for your daughter's flight to take off.
Then when your daughter and her classmates started walking towards the plane to board, and my daughter waved and waved and kept waving until the plane took off. Anytime she stopped waving her teacher would shout "Heeeey! Caaan you tell them goodbye until they go!".
For that reason, she ended up spraining her poor shoulder. Your daughter did not even wave back, instead, she took her smart phone and started taking photos of my daughter and her classmates.
From there, together with her classmates, my daughter walked back to the PSV her school had hired for the day. So tired and hungry was she that when the teacher announced that lunch was served, she almost ululated.
Remember they left the school as early as 5am in order to get to the city in time to 'catch flights'. They had their lunch, each one a bottle of soda and a loaf of bread which as hot as the wire mesh fence they were leaning on as they waved at your daughter.
She came back home tired and at the moment, she is experiencing some 'bus lag'. She tells me that they were told to write a composition about their school trip.
She also told me she slept all through the trip. She was only woke up when they were approaching the CBD on their way to the airport and slept immediately they left the airport. Probably because of the fatigue and the scorching sun. Now I am not sure what she is going to write in her composition. I bet she is going to major on your daughter and her classmates.
That is why I am here today, to ask you to help me help my daughter. What's your daughter's favourite meal? Does Remmie love her? What type of phone does she own? Did they also serve bread and soda on the plane? Is she experiencing any jet lag today?
Lastly, what do you do for a living and what stone were you carved from? I think it's time to change my profession and sculptor!
Yours truly,
Secretary General Classless citizen.
Related Topics