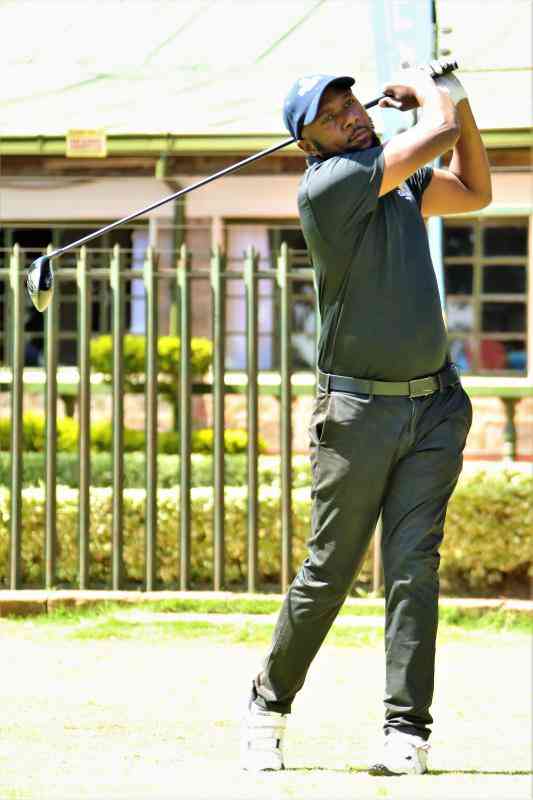 An effortless round afforded Justus Mathenge with the 2023 ICEA LION King of the Course Ruiru leg victory at the par72 course over the weekend.
After overcoming a winless streak for the past two years, the towering handicap 20 posted 39 stableford points to headline the meet.
Earlier on Friday, during the corporate Clubnite tournament which doubled up as the third leg of the event series at Thika Greens Golf Resort course, handicap 28 Muli Kavita beat a field of 154 golfers after returning an enviable score of 43 stableford points to lift the title.
He edged out eventual men winner John Njeru on countback with a similar score of 43 stableford points. Kibera Maina settled for men winner third, a point shy of the leaders.
Leading in the ladies division was C Nthiwa who carded a neat score of 42 stableford points, with Ann Kinyori coming in second with 39 stableford points.
Back in Ruiru, David Muiruri missed podium spoils courtesy of a countback which saw him wind up his round of 18 with a similar score of 39 stableford points.
Handicap 15 Kenneth Kimathi was men winner second with 37 stableford points as Thomas Mwaura and Anthony Kioi settled for Men winner third and fourth respectively.
Donning the Ladies gong was Sophie Njuguna playing off handicap 28 after posting 37 stableford points, a point better than Lady Winner second, Atlanta Wamahia, who had a score of 36 stableford points.
In the Nines, Ngumo Kingori was the better of the pack with 22 stableford points to take First Nine prize as Eliakim Maina bagged Second Nine prize with 23 stableford points.
Best visiting golfer was Priscilla Karobia who had a score of 39 stableford points ahead of Guest winner second Jane Mwangi with 37 stableford points.
Leading the sponsors was handicap 25, Benson Mwangi after returning a score of 31 stableford points. Handicap 26 Elvis Koech won the Junior prize after firing a round total of 35 stableford points with Gichuhi Waweru taking Senior prize on a score of 35 stableford points.
In Category 2, Amos Mwaura was the best in the men category with 37 stableford points, while Jecinta Wahome topped in the ladies division.
In the commercials, Rosemary Kioni won the Longest Drive Ladies prize while Gabriel Wabuto conquered in the men's category.
Nearest to the Pin Lady winner prize was won by Beatrice Waweru as FN Ndegwa took Nearest to the Pin Men prize.
Speaking during the presentation dinner, Chairman ICEALION General Insurance Company Limited, Joe Wangai, said:
"The success of ICEA Lion King of the Course series relies to a great extent on the support of our partner clubs and their membership and Ruiru is at the core of this series. Our commitment to the continued support to this club is also a recognition of the supports of the clients at this club and within this region who have entrusted their insurance solutions to us over a long period of time. We fully appreciate this support."
The next leg of the seven event series will be held at Nanyuki Sports Club at the end of this month.
Related Topics