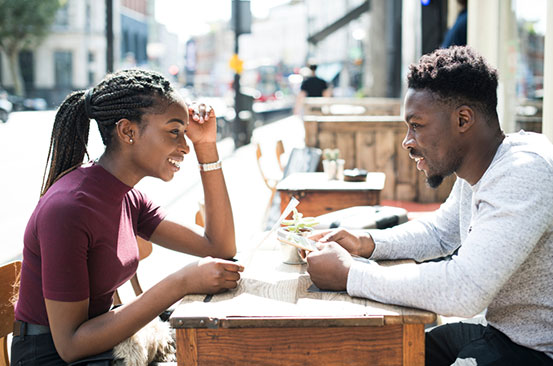 Sometimes, I look at all the men I rejected when I was in my early 20s and feel like I gave myself a raw deal in life. Back in college when falling in love was still rosy, just like any young woman in her 20s, I had a wide range of suitors to choose from. It was such a sweet feeling to have people fight for my attention. I still don't know how it all turned from being the centre of attention to fighting for attention. All I know is that I turned down several men and right now, I might be regretting it. I did not say I am regretting it; I just think I could be regretting it in my sub-conscience.
Back then, all I wanted from a man was to be pampered and to have fun. I didn't really care about what plans the man had. My worry was how to live the present life. The future seemed too far. So all those men who looked like they were figuring out their future failed their 'exam' from the word go.
I remember turning down a fellow college student who seemed to concentrate so much on his studies and putting his future together. To me, he seemed a little bit boring. I felt like dating such a man was almost a waste of time because of my naughty nature. I mean, if he spends all his evenings digging into his books and researching online, what time would we have for 'us'? So I didn't give them a second thought.
My attention was cast on those who lived the present life then. Those who took the ladies out for fries and chicken. Those who bought their ladies flowers and chocolates. Those who knew the lyrics of all these love songs off head. Only God knows how hard I fell for this man who could sing UB40's song 'Reasons' word for word.
How he would sing as he walked up and down the hostel corridors -- that made my heart melt. I would occasionally join him and we would 'terrorise' the serious students trying to study in the hostels by singing our lungs out in the corridors. That one sentence in the song that I shouted the loudest, "The reason I will stay with you? I know that you love me too." If only I knew those were just meaningless words and that our 'love' was going absolutely nowhere.
Those serious men who were planning their future pulled away from me and I was left with those who had nothing to love and nothing to give. The lover boys! Of course, we had fun, real fun while it lasted. What I have never understood is how we parted ways with nothing to write home about our time together. Then slowly the years went by and of course maturity kicked in with time.
Right now, I look back at the men I ignored in campus and I want to throw myself in the air and fall down hard for the decisions I made. All those 'boring' men in campus now have their lives put together. These men have several life developments and are living very comfortable lives. The most painful part is that most of them are happily married. Those who aren't married yet want nothing to do with women, especially women like me who turned them down when they had nothing more to offer than love.
READ MORE
Annoying as it may sound, the men we wasted time with in college are still living very fishy lives. At least I tried and acquired some maturity. These men are still not married and are still running after us. Only now they are after us to finish us completely by not only breaking our hearts but our banks too.
I wish there was a way I could turn back the time and apologise to all the 'boring' men I turned down in campus. See, I should have listened to them. Right now I would be one of those 'goat wives' with claws ready to protect my marriage from anything bad. But see, I am sitting here trying to figure out at exactly what point the rain started beating me.
Dear daughter, this is my advice to you, don't let appearances fool you. Look deep into a person, there's more to a person than the powerful voice singing along hostel corridors in a bid to showcase your 'love'.