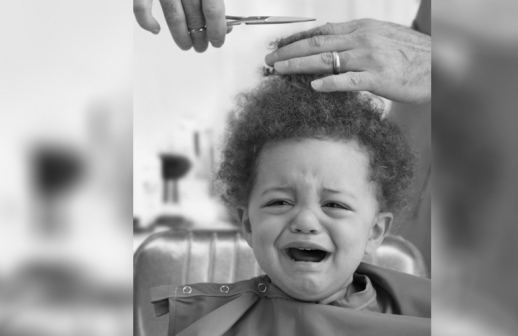 To many children, a visit to the salon is like a visit to the doctor. Many scream their heads off because they don't like their hair being touched.
It is interesting that many girls love to look pretty, but don't like the process that goes into making them look pretty. Well, there are ways in which the drama of a girl kicking her legs and fighting with the hairdresser can be controlled.
Here is how:
Build it up:
While still at home, talk to your daughter to excite her about the visit. If, for example, you plan to take her to the salon next weekend, start talking about the visit today.
You can then have a countdown like you would for her birthday party. How about you ask her to pick the hairstyle to build up excitement? Make it a routine so that your child already knows every Saturday or Sunday afternoon is for visiting the salon.
Keep it short:
READ MORE
To make the visit short if, for example, you are taking her for cornrows, wash, condition and blow-dry her hair at home. Many children don't like strangers touching their hair. Preparing the hair at home thus reduces the amount of time a stranger interacts with their hair.
Bring your own:
Just like parents are advised to carry a shaving machine for their sons when they take them for a haircut, carry your daughter's tools and products if you can. Children tend to be sensitive to items they are not familiar with.
Carry your combs, hair oil, shampoo and conditioner. Apart from ensuring that your daughter is familiar with the items, you will also be sure of using the right products and tools on your baby girl's hair. Not all salons sanitize their tools.
Keep it simple:
Avoid choosing complicated hairstyles. Choose one that is easy, quick to do and fun for your girl. The longer she stays at the salon, the more unsettled she becomes; it is not easy to get a child to sit still for long periods of time.
Also, if you choose a complicated style that takes long to make, your child and the hairdresser get frustrated. It is worse if your daughter is the complaining and whining type.
Entertainment:
Carry along something to destruct her from the hair making process. Few salons consider having TVs, books or magazines that target children. As such, your child is bound to get bored. Carry a game, toy, magazine, book or even a coloring book to keep her going. Don't forget to also bring along some healthy snack for her.
Stay away:
There are children who are more stubborn when their parents are around. It is thus, always good for the parent to stay away and that is why some are brought to the salon by house-helps. However, it would be prudent that you stay around to ensure the hairstylist uses the right products and tools on your child's hair.
You also get to ask the hairdresser questions and answer some, apart from helping calm your daughter down when she starts crying. Your presence will also ensure you can have a conversation with your child while her hair is being done.
Let her nap:
For those whose children are deep sleepers, it is best to do their hair when they are in that state. This way, you are assured there will be no drama at the saloon.