The Standard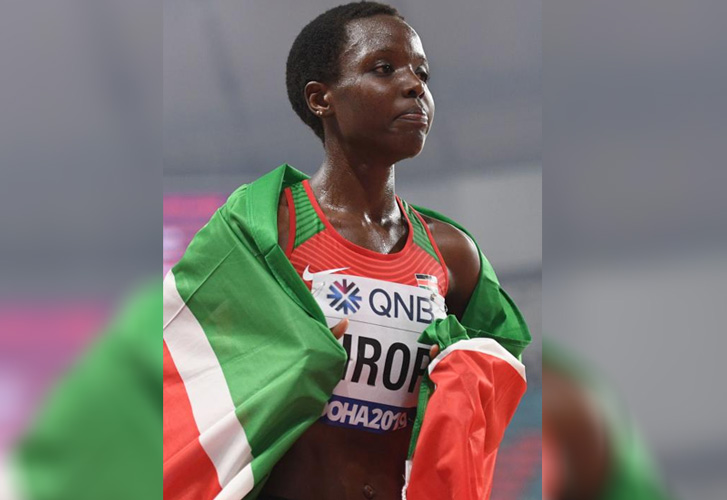 Kenya's Agnes Tirop claimed her second successive world bronze as Kenyans lost the 10,000m battle to Sifan Hassan on Saturday night at the ongoing World Athletics Championships in Doha, Qatar.
Under sweltering heat on Saturday night, all the protagonists led by Hellen Obiri, Tirop and Hassan of The Netherlands were happy to bide their time towards the back of the field as German Alina Reh took the field through 3000m in 9:29.69.
Kenya's Rosemary Wanjiru, however, unleashed the first significant move of the race dashing to the front and taking with her a train of Africans in pursuit.
By the 4km, a huge split had occurred with Wanjiru leading her fellow Kenyans, Obiri and Tirop, followed by the Ethiopian trio of Letesenbet Gidey, Netsanet Gudeta and Senbere Teferi.
Hassan was a little more patient in her approach taking a lap or so to latch on to a lead group now containing seven athletes.
The race then settled down into a familiar pattern, as the Kenyans each took a turn to set the pace. Just beyond half distance — reached in 15:32:70 — Gudeta was the first to crack and slipped off the back of the lead pack.
With two laps remaining, the smooth-running Gidey held a 10-metre advantage on the pursuing Hassan and Tirop.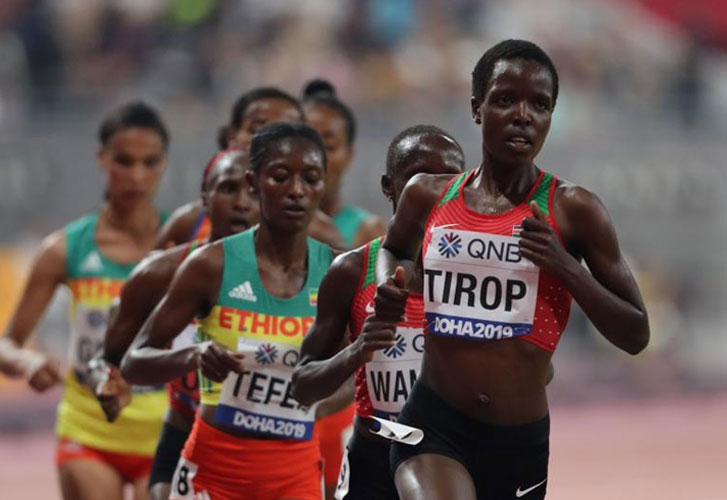 Obiri was a further 10 metres back on the athletes in provisional silver and bronze and fading quickly out of the podium picture.
Running in only her second 10,000m race, Hassan repelled all the opposition could throw at her to land her maiden world outdoor title in a barnstorming final.
The Dutch distance runner, who earlier this year set a world mile record, gave another demonstration of her astonishing versatility to destroy the brave Ethiopian Letesenbet Gidey with a 61-second final lap to strike gold in a Dutch record 30:17.33.
Gidey had the satisfaction of winning silver in a personal best 30:21.23 with Tirop securing back-to-back bronze medals in a personal best 30:25.20. Behind, Wanjiru overhauled the fading Obiri to take fourth in 30:35.75.
Tirop was satisfied with her third place finish behind Gidey.
"Before the race, I was thinking about silver or bronze so I fulfilled my expectations. We knew Hassan was strong at shorter distances and we knew her from the Diamond League performances," said Tirop.
The 23 year old further added: "We tried to chase her until the finish but she was stronger and she won. This medal is very important to Kenya. I am very proud of this medal also because of my family."
The US-based Hassan, who made her 10,000m debut in Stanford in May recording 31:18.12, said: "I am very happy because I have been a middle distance runner and this was a test for me. It was okay at the beginning but then when they were kicking at the front I had to try hard to keep in touch. I know I am more of a 1500m and 5km runner, so if I could get close I would have enough to win. She (Gidey) kept trying to kick but in the last 800m I knew I had it."