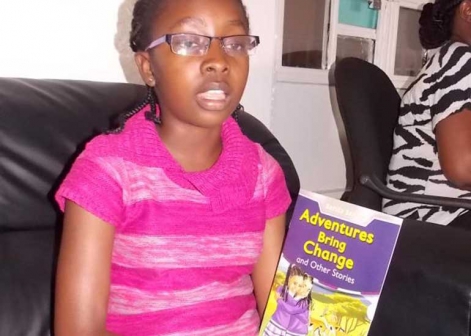 10-year-old Serita Turner writes on how to embrace national cohesion
Serita Turner, wrote her first book at the age of four years targeting to promote cohesion and unity in the country with a focus on children who she feels can be instrumental in changing the society.
To foster national cohesion and unity in the country, we must start with school-going children to teach them virtues and nationalism.
To achieve this, I decided to write a book titled 'Adventures Bring Change' and other stories to bring to the attention how the mindset of the children should be nurtured to embrace integration and cohesion.
At the age of seven years old I published my first book with a focus on how to achieve cohesion and integration in the country.
Even though the book targets children, the book is of great ideal not only to the children but even adults who encourage individualism and tribalism.
My focus lies on people who feel they can do better alone than embracing the other people or people from other tribes to work together.
READ MORE
The book also targets to kill tribalism which has 'eaten' up the country and we must stop it by instilling virtues among children to change the society.
National cohesion should be incorporate in the education system if we want this country to foster unity and peace.
Children can be the best medium to lead in crusading for unity as they will have an impact on their parents.
To the write the book, I drew my inspiration from former USA president Barrack Obama who has helped this nation through donations in several fields like Health and Education.
Obama tried his level best to make the world a better place and we should emulate from him to make this world better for everyone.
In Kenya, one person leads as others watch on the fence and if we instill virtues in the children then they will be able to understand the fact that they can take part in the leadership through collaboration with us.
I want children to see each other as equal as before the eyes of God and it is through this that they will be able to work together and foster unity in this country.
Through the love for reading and writing stories I have started my Serita series working on the second book-Keys to be a leader.
I developed a reading culture at the age of four years through the support of Jumpstart programs.
Currently, I am one of the brand ambassadors of the digital learning school in Africa (Dschool).