Home
/
My Man
Where are the good spouses?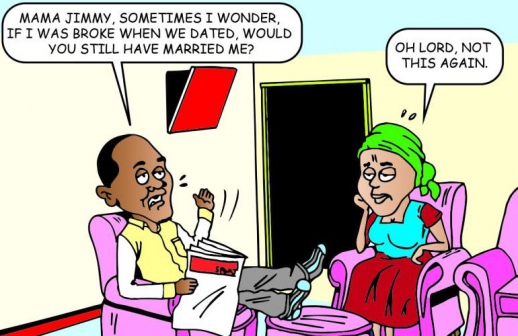 People provide all manner of reasons why they married their current spouses.
Some profess that they married for love, others say they did it for emotional and material support and a few admit that they married because they had suddenly realised that they were running out of time.
Whatever the case, it is increasingly becoming clear that some people married for all the wrong reasons, or to the wrong partner, or both.
Given the rising number of Internet-facilitated hook-ups, come-we-stay marriages, "friends with benefits" and all manner of casual unions, we can safely conclude that very few marriages are being made in heaven.
According to my friend Odhiambo, this is partly because young people are sourcing their spouses from the wrong places.
"Most young men go fishing for potential wives in the pub, which, together with the rugby pitch, is not a good place to scout for a life partner," he advises, adding that one should stick to the traditionally recognised meeting points — such as places of worship.
"Easy come, easy go," says my young neighbour, Mose, who has been "married" twice in two years — and has been dumped twice.
Recently, while looking at dating pages, I observed that cashless romance is out of question these days, as young men and women are seeking attractive, educated, career-driven and financially stable mates. The last bit is especially crucial.
"Mimi siwezi kuolewana jamaa amesota! Money talks," says Suzie, a colleague who vows that she would not marry for love or such like delusions.
Her dream husband must provide the relevant creature comforts, and he will ideally be a military man.
On a sad note, interracial marriages are viewed with suspicion in my county, with some people openly dismissing them as mere conduits to wealth, green cards or citizenship in foreign lands.
On Friday evening, when I wanted to go to bed, my attention was drawn to the song Carpenter by John Holt, which was playing at low volume on the stereo:
"If I were a carpenter and you were a lady, would you marry me anyway... would you have my baby?" went the lyrics, delivered in Holt's characteristic mellow voice.
As the words sunk in, I suddenly caught myself wondering why I married Mama Jimmy. I know this is an odd question, given that we have been married for two decades, but have you ever wondered why you married your spouse (or spouses)? Would you marry your current spouse today?
"Darling, had I been jobless when we met, would you have married me?" I wondered aloud, addressing the mother of my heirs. The question caught her off-guard.
"Baba Jim, kwani you think I married you for your job?" she retorted, sounding slighted.
Happily, I know that she is not a gold digger, which is a good thing because, frankly, there is absolutely no gold in my life to dig for in the first place.
"What if I were an alcoholic?"
"Er, I would not have minded that either," she stammered after a lengthy pause, all the while avoiding my gaze.
I knew I was treading on dangerous ground, but I ignored the scowl on her face and badgered on: "And supposing I was a poor, illiterate, drug addict with a criminal record, would you still have married me?" I asked cautiously, while looking out for any sudden movements. This time, I saw her eyes twitch.
"Ai... Baba Jim, hapo sasa ungejipanga!" she said with a grin, before turning the spotlight on me.
"Na mbona unaniuliza hizi maswali za clinic?" she probed, while studying my eyes for any signs of mischief.
At this, I narrated how a friend had told me that he deeply regrets his choice of spouse, whom he married in a big, fanciful wedding.
Ten years after tying the knot, he has suddenly realised that he did not marry the lady of his dreams.
There is no more chemistry between them, he says, and they no longer have common interests.
Frankly, I would still marry Mama Jimmy today or any other time, as she has proven to be an excellent mother and wife.
I should admit that my high school sweetheart, Janet, would also have made an excellent spouse, but that is neither here nor there.
Related Topics