Beryl Wanga Itindi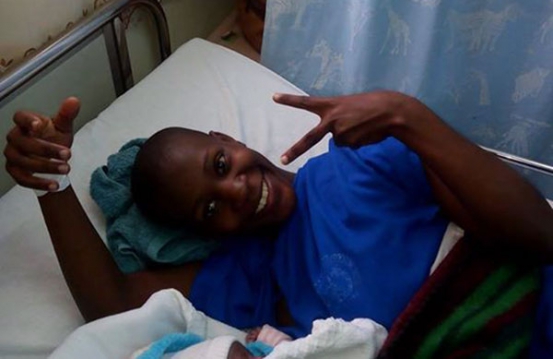 She is finally here! Sori my mother is with us. The fruit of my womb arrived this week and I cannot explain the feeling in my heart. It feels greater than answering to Tony Mochama's rants whenever he is broke; yes, he rants a lot when he realises he cannot afford the little things in life, like a piece of Black forest cake.
ALSO READ: Men have a critical role to play in breastfeeding during COVID-19 pandemic
Hell no! I am not going to talk about Tony today, this is my daughter's day. For years, I have been writing her letters asking her to show up, of course with the father. She has been evading me all this time, even though I did all I could to get hold of her. She came, this time, she finally came, don't ask me about the father though.
Ahem! To me, 'Deadbeat' was just another word in the dictionary when the famous Facebook page was created last year. This year though, I can not only define the word but I can draw it, paint it and give it a nice finishing! In fact, by the time I am through, you will see the real 'Deadbeat' in 3D.
When I say some parents brought up sissies for men, believe me, in fact, believe me with all your heart, mind and soul.
At 30 though, I should have known better! I do not blame any deadbeat out there, I blame those who believe in them. I will not blame myself though, because mine was a blessing in disguise. He gave me the best present I could ever receive, Sori my mother. Something no man ever gave me! So I will give the devil his due and tell him Ahsante sana. One day, maybe, just maybe, I will tell you all about the father of my daughter.
Today, is my daughter's day, the smile on her face is priceless even though she made me have the worst nine months of my life. The nausea, the throwing up, the mood swings, the judgmental eyes and above all, the terrible discrimination I faced from quarters I never expected. Did I mention the labour pains that kicked in when I was only six months pregnant?
Poor me! I lay in bed all night thinking baby had discovered a new style of kicking, little did I know hell was about to break loose! I should mention the fibroids too. The first time I went for a scan at three months after experiencing terrible pains, I looked at the monitor and smiled at the doctor, "Wow, I have twins!" I whispered. He looked at me in shock and said, "No, the bigger one is a fibroid." I opened my eyes wide and wondered why me.
The clinic visits became more and more due to my delicate condition and my weight went down at every visit, thanks to the frequent throwing up. Then one day my left leg swelled just below the knee at the back. I could not even move it! I went straight to Google and it was quick to answer "Beryl, you have a blood clot" I almost dropped my phone in shock! That's a story for another day.
ALSO READ: Mac Otani's heartbreaking breastfeeding challenge with ailing wife
Today, I just want to tell the world I made it through God's grace. My baby is here and the labour experience was enough to make me overdose on permanent birth control pills.