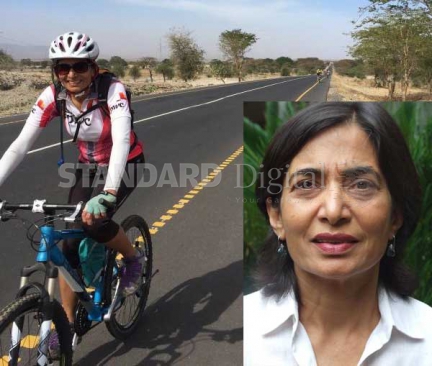 "I felt a lump in my right breast and my initial self diagnosis was that it was a cyst, having had one a few years before. It was only normal to dismiss it as anything more than a cyst," says 60-year-old Shaira Adamali who grew up in Tanzania.
That, helped erase any doubts lingering in her mind. Besides a doctor assured her that the lump could have been a minor injury sustained as a result of deep sea diving, an adrenaline-filled activity she had undertaken a few months before.
The fact that she was not put under any kind of medication and the lump was painless did not help the situation either. That was in 2003.
Six months later, in December of the same year, she decided to visit a doctor owing to the fact that, the lump 'she felt', had grown in size. "A biopsy was performed and the news that I had stage two cancer was broken to me," says the mother of two admitting that nothing could have prepared her for such news.
Renewed hope
The initial shock of the news that had thrown her into a miasma of worry was quelled by her husband who is a practicing radiologist. "If one is to wish for cancer, breast cancer is the one to wish for as it was curable," she recalls her husband's words.
She broke the news of her diagnosis to her two girls who were at university level at the time hence old enough to understand what was going on.
With renewed hope and restored optimism that cancer was not a death sentence following the talk with her husband, she expressed her desire to start treatment and within weeks she was flying halfway across the world for treatment.
"I had surgery and a mastectomy, in the UK. I then came back home and had six cycles of chemotherapy at intervals of three weeks," she remembers. "The treatment in the UK must have cost around Sh500,000 and the chemotherapy sessions set me back Sh30,000 a cycle," she recalls, vaguely admitting that it was a long time ago, and her only interest at the time was to get better.
Immediately after the treatment, she got on a preventive pill, Tamoxifen, taken orally, daily for five years, to lower the risk of breast cancer recurrence, occurrence in the opposite breast or death from breast cancer.
"Now that I better understand the cancer scene in Kenya – that funds are a major issue when it comes to cancer treatment – I know how lucky I was as I did not have to worry about funds for my treatment.
I had a lot of support from my colleagues at work and my medical cover took care of most of the expenses," she points out adding that she continued to work with Coopers & Lybrand, now PricewaterhouseCoopers (PwC) as a tax specialist in the course of and post treatment even five years after her diagnosis.
But even as she remained positive and carried on with normal life, "I had it at the back of my mind that life will never be the same but in many ways it can be better as I'd had a life changing experience," she explains of this revelation that prompted her to retire eight years prior to her retirement age.
"In addition, I had a demanding regional responsibility as the head of tax in Africa. That involved a lot of traveling and the demands of the job were wearing me down in as much as I realised that it was important to carry on with normal life and remain positive," says Shaira.
At the time of taking early retirement, she had worked for 31 years, having started working in Tanzania in 1977 before moving to Kenya a year later when she got married.
Prior to that she had been the recipient of a scholarship owing to her academic excellence and badminton prowess. "My parents were not wealthy and I was lucky to get a scholarship from the Tanzanian government to pursue accountancy in the UK," she says.
"I always wanted to give back to society. I always knew it would be through the health sector, but I was never sure what avenue I would use. But this cancer experience had me thinking a certain way," she says.
For More of This Stories Subscribe to the Standard Epaper to get a copy of Eve Woman in the Standard
And just as opportunity meets the prepared mind, when she finally took an early retirement seven years ago to give back to society, she was provided a free site to set up a charity – the combination of her personal experience of cancer and the valuable experience at PwC placing her in an even better position to further her cause. Just like that, Faraja Cancer Support Trust was born in May 2010.
Its aim as the name suggests was to make the cancer journey easier for patients post diagnosis and treatment. But that was before she realised that timely access and affordability to cancer healthcare still looms as the biggest barrier to survival, and Faraja needed to play a role in this.
Besides that, she admits, "It is unfortunate that 1 in 10 children with cancer survive compared to 7 in 10 in developed countries. More scary is that 1 out of 3 people in Kenya are diagnosed with cancer annually with the statistics increasing faster than our hospitals -both private and public - can cope, with only 14 oncologists for a population of 42million and the health costs running at more than double the average salary.
Unless we make a drastic change in our healthcare the future is bleak for the majority who cannot afford the cancer treatment."
Bike ride
To make this possible, she had to dig into her bag of tricks. Her sporty nature would have to do the trick and she would use it to wow the crowd barely a year after Faraja was founded. She, together with six other Faraja cyclists joined a team from UK on a bike ride challenge in Kenya to raise funds for cancer patients.
She and her team managed to raise Sh7million out of their set target of Sh14 million. The funds were used to support the treatment of needy patients who sought palliative care at Faraja Cancer Trust. That was four years ago.
She took it all in good stride and a fortnight ago from October 2 to October 7, she cycled 350km in TZ - from Moshi through Ngorongoro - to help raise funds in the fight against cancer. The bike ride initiative which is part of the larger initiative dubbed "Women Vs Cancer cycling challenge", saw her surpass the set target of Sh10million to raise Sh14million from friends, family and well wishers with PwC also contributing to the cause as the lead corporate sponsor.
"The ride was very tough due to the heat and some challenging off road cycling, in as much as I have always exercised and eaten well, but the cause for which we were cycling kept us going," she says adding that she is glad that the monies raised will save seven lives every year forever.
Sharing stories
The funds raised will go into building an emergency medical fund – where only the interest accrued from the fund is used – to support adults and children living with cancer in Kenya who cannot afford life-saving treatments such as chemotherapy and radiation. Faraja has run a pilot project which saw 25 people receiving an emergency grant for life-saving cancer treatment over the past two years with 21 sharing their survivorship stories.
She hopes to build a medical fund in excess of Sh100million and are exploring Eldoret as the next location to start another Faraja in order to reach out to more cancer patients, in the hopes of launching it within the next 18 months.
Neither the doctors nor she can explain the root cause of her cancer, citing; "I have always exercised and eaten well. I have tried to manage stress better and not to worry too much." She however feels that she has a family disposition to cancer as two of her paternal aunts were diagnosed with breast cancer while in their 60s. When all is said and done, she attributes her positive recovery to God, family support, balanced diet, exercise and stress management. "I try not to worry too much about things that I cannot change or things that do not matter."
Do not miss out on the latest news. Join the Eve Digital Telegram channel HERE.