Sylvia Wakhisi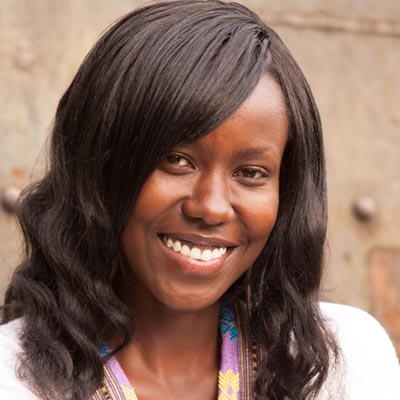 The name Naomi Mwaura may not be familiar to many people in Kenya, but the soft-spoken and humble lady is one of a very small club of Kenyan women who have made it to superstardom.
At only the age of 26, she has managed to earn so many accolades, including being recognised as among the 'Top10 under 35 change makers in Kenya you need to know', something that has seen her gain quite a fan base in the African continent and even internationally.
Naomi is the Founder and Managing Director of FloNe Initiative, a non-profit organisation that facilitates a programme in social change, sexual and reproductive health rights and gender equality.
Though her popularity is growing, she says her greatest hurdle has and will probably continue to be finding her footing and personal success as an introvert in a world where extroversion has garnered praise and is equated with success.
"Introverts tend to be calm and reserved, speak softly and slowly, don't seek the limelight, and act only after thinking their thoughts through. In the workplace, these characteristics have usually not worked in my favour, especially in recruitment and promotion," says Naomi.
The visionary entrepreneur and philanthropist has, however, not let her personality dampen her spirits. She has instead chosen to put her energy and focus on uplifting the lives of many individuals across the country.
ECONOMIC EMPOWERMENT
FloNe Initiative promotes social reforms in Africa to increase self–reliance and informed choices among African men and women. After more than four years in the private sector, Naomi founded the organisation, merging her business experience with her passion for social entrepreneurship.
"I am passionate about advancing women's rights. I can be a bit of a dreamer and I see men and women across the African continent having equal rights," she says.
She firmly states that she does not wish women to have power over men but over themselves and this can be achieved through social and economic empowerment.
Born and raised in rural Kiambu, her passion to advocate for women's rights was fueled by the many challenges women undergo daily.
"I grew up in a rural area where I witnessed a lot of gender-based violence and gender inequality where women were left in their homes by their husbands to do all the housework and fend for their families without any stable income. Some were forced to take up odd jobs to make a living. Many other women died in the process of giving birth," says Naomi.
"Each time I came across such situations, I shed a tear. It got me thinking of how I could come up with ways to help these women," she says.
Attending USIU opened her eyes to the outside world. Afterwards, she worked in various administrative posts, but felt that she was not getting the satisfaction she wanted in serving people.
VOLUNTEER
She opines: "I had worked as a counsellor and an administrative assistant. In between these jobs, I was unemployed for a period of six months and no matter how hard I tried to hunt for a job, I couldn't find any. At some point, I came across a non-governmental organisation that was tackling issues to do with female genital mutilation and took up the role of a volunteer. I later got a job as an administrative assistant but the fulfillment and experience I had while working as a volunteer was nothing close to being on a full time job. That is when I decided to start FloNe."
All this time, she could work for three days in a week, spare four days to manage and run the affairs of FloNe Initiative and at the same time go to school since she had enrolled for her Masters.
Naomi finally quit her job to focus on FloNe Initiative, which was officially launched in September 2011. The main aim of the organisation is to improve the quality of life among Kenyans through programmes that promote self-reliance and informed choices.
PAN AFRICANISTS
"We identify an area where there is a problem and come up with ways to solve it. The aim is to influence and inspire one another, push our world forward because together we can do more," she says.
Her first project was a play that advocated against gender based violence and promotes sexual and reproductive health rights in local universities. The impact was positive and this encouraged her to press on.
FloNe Initiative has also facilitated successful projects against gender-based violence.
"We work online. We are a small team of five people who are passionate in seeing Africa transform to become one of the top continents in the world. We are serious Pan Africanists who totally believe that our continent has to be the next super power and we are working hard to see to it that it happens."
According to Naomi, running such an organisation requires a lot of hard work and patience.
She has had to put up with a myriad challenges ranging from registering the organisation and funding to getting people to buy into her vision.
"Things were tough at first because people didn't know who we were and what we dealt with. I stumbled many times. The registration process was nightmarish. It required a lot of money and patience. But with time, things got better. We work with the help of various partner organisations such as One Billion Rising (OBR), Oxfam-Gender Justice, Young Women Leadership Institute and other local institutions. You cannot underestimate the power of partnerships," she says.
SOCIAL ENTREPRENEURSHIP
But does running the organisation pay and help to cater for her daily needs?
"I would say am not a millionaire, but I think I have found a way of being able to do what I love and at the same time pay my bills. If I was offered a job that pays highly and is not something I am passionate about, I wouldn't go for it. I have found the satisfaction that I need in running FloNe," she says.
Her greatest desire for the future is to make FloNe regional. She also hopes to get into other forms of social entrepreneurship.
Naomi encourages unemployed youths not to be afraid to start small.