A salute in place of a kiss
EVE BRIDAL
By - | December 29th 2012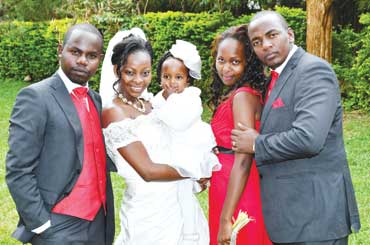 The newlyweds,flower girl and their best couple.
Couple: Evelyne and David Mwaniki
When: August 18, 2012
Where: Nairobi Pentecostal Bible College, Garden Estate, Nairobi
Guests: 300 guests
Budget: Sh450,000
Interview: Thorn Mulli
EVE BRIDAL: How did the two of you meet?
Eva: We met in Ngara. Well, not really. See, we were born and raised in the same neighbourhood. However, we never socialised during our childhood. Then one evening as I was shopping, I bumped into him, now as adults pursuing various vocations.
Once the initial excitement subsided, we reacquainted and with matching interests and goals, a friendship blossomed.
EB: How did he propose?
Eva: He invited me for lunch and as we were enjoying each other's company, out came the ring, then the kneeling and the eventual popping of the big question.
EB: How did you finance the wedding?
Daudi: We footed more than half of the budget from our savings. The rest came from close friends and family. Church members were also pivotal in supporting us in a big way.
We formed a wedding committee made up of close friends who mobilised funds, service providers and human resource.
EB: Did you seek the services of a wedding planner?
Daudi: At first we did, but the cost proved too dear. We then opted to do the planning ourselves with the help of our committee. After all, the planner would only do what we could do better.
EB: Yours was a unique event, what led to it?
Eva: First and foremost we owe it to God. Big time! He just surprised us. The event turned out better than we expected. Our service providers did a fantastic job. They did their assignments as if it were their own.
Creativity was also a factor. For instance, jamaas had a different look at the reception from the one they had in church. Have to say, the live band outdid itself ensuring guests danced their masks off!
EB: What were the highlights of the day?
Daudi: The salute! Yes, the bride gave the groom a salute instead of a kiss after being pronounced man and wife! The live band was great!
EB: Honeymoon?
Daudi: That was the best part of the whole thing! The climax that I would love to rewind. We flew to a destination that we will not disclose for now, and blew it up.
On coming back we visited Diani where we took a furnished cottage and toured the better part of South Coast and surrounding islands.