Who: Monica Mkandoe and Frederick Wanje
When: December 17, 2011
Venue: Loreto Convent, Mombasa
Guests: 500
Budget: Sh600,000

Read More
Photography and interview: Maarufu Mohamed
Eve Bridal: How did you meet?
Fred: We met at a wedding in Wundanyi back in 2009. She was carrying a huge handbag, which made her stand out from the crowd.
EB: How did you propose?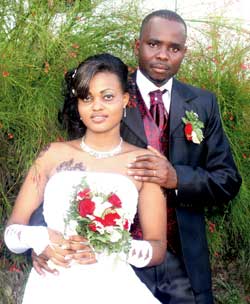 Monica and Frederick
Fred: I took her out for a holiday down South Coast at Leopard Beach Hotel and Resort in February last year and asked for her hand in marriage. She gladly accepted.
EB: What do you love about each other?
Monica: He is kind, caring, romantic and simply irresistible.
Fred: She is a charming darling, loving with a great sense of humour. Just incomparable... like a lily among thorns.
EB: Why did you choose to do a wedding?
Fred: Both of us are committed Christians and the idea of a church wedding was imperative. We set up a small wedding committee for logistical planning. The committee comprised of our friends who had wedded before and their input was valuable. We are grateful to them.
EB: Talk to us about your choice of wedding theme?
Monica: Our colour scheme was red and black. I like red roses simply because they keep our love hot all the time. He sends me a red rose every Valentine's Day.
Fred: I love red roses, they are a reflection of my sweetheart.
EB: How was the wedding planning process?

Monica: It was hectic given our busy working schedules. The fact that he lived in Nairobi while I was in Mombasa made it quite challenging.
Fred: We had to travel a lot especially when we needed to meet service providers together. We thank God all the same for enabling us to plan the wedding.
EB: How long did it take to prepare?
Monica: It took us four months.
EB: What were the highlights?
Monica: When he drove me in a state-of-the-art convertible Lexus after the church service. Wow! It was amazing, fantastic and touching.
Fred: My highlight was when she slipped our marriage certificate into my socks after the provost presented it to us. It caught me off guard.
EB: Were you faced with any challenges?
Monica: My hairdresser declined to make my hair at the eleventh hour. I was totally confused. I had to make urgent arrangements for somebody else to do it.

Fred: Surprisingly, I got a fever the morning of our wedding day. I thought I would not make it for the church ceremony.
EB: Any emotions or stress during the wedding?
Monica: One of my maids arrived late for the wedding.
Fred: There were stressful moments during the last week to the wedding. Linking and harmonising all service providers especially, the decorators, catering, transport and cake providers was stressful.
EB: Honeymoon?
Fred: I surprised my darling with a trip outside the country.
EB: Any lessons you can share?
Monica and Fred: The notion that weddings are hard and expensive to plan has been overtaken by time. Whatever amount of money you have, you can plan a wedding. We can comfortably advise all young couples that as long as you have the will to have a wedding, you can definitely have it. No mountain is too steep to climb.