Arsenal kick-starts afforestation project in Kilifi to combat climate change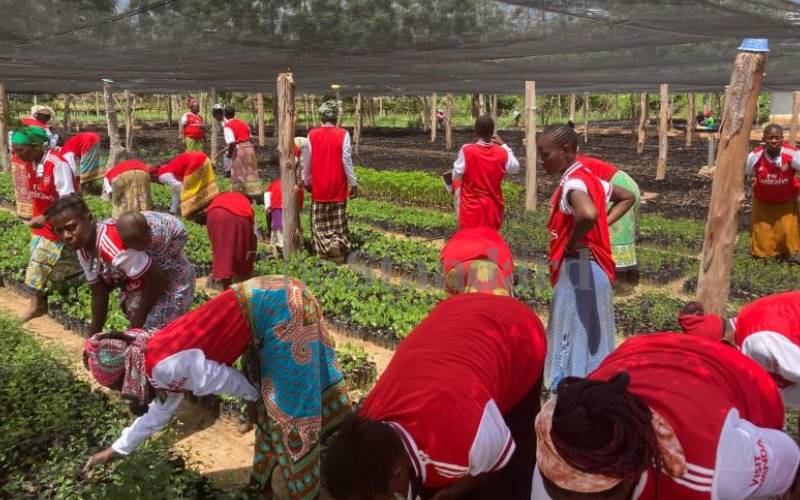 In recent years, professional football clubs across the world have been leveraging their visibility by spearheading philanthropic initiatives in the communities that support them.
English Premier League football club Arsenal is supporting social developments in Bore Singwaya village in Magarini, Kilifi County.
The club is sponsoring a tree-planting project in the constituency that has for years been affected by drought blamed on climate change.
Apart from the tree-planting project, the club has been supporting sports teams in the area with the main aim of promoting conservation and developing talents in the area.
The project in Magarini sub-County is aimed at addressing the effects of climate change.
The project is part of Arsenal's sustainability match day drive and seeks to create 'the Arsenal Forest'. It is done in partnership with Carbon Link, a nonprofit forest restoration organisation.
Carbon Link NGO estimates that to offset the carbon consumption of match-day programme, 12,500 trees need to be planted, with each absorbing 20 kilogrammes of carbon over the next 10 years.
To set the ball rolling, Arsenal Club has financed the NGO to plant trees on 12.5 acres that is equivalent to 21.3 Emirates football pitches.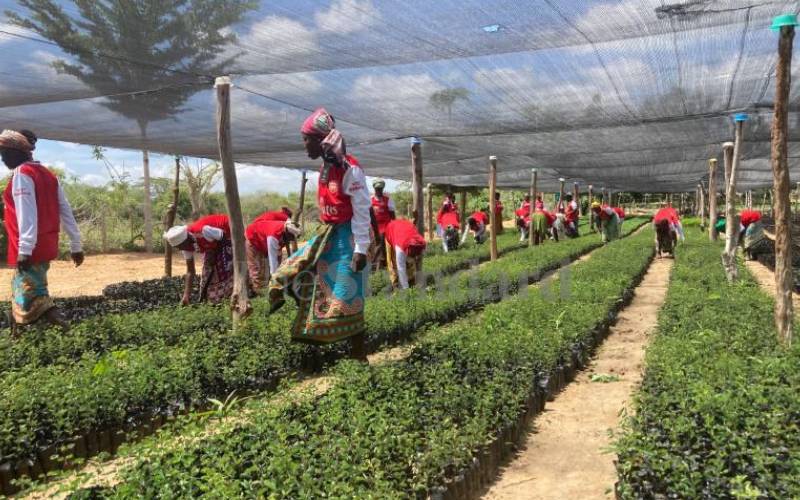 The Bore Singwaya area in Magarini sub-county is prone to floods and drought disasters due to the destruction of trees for production of charcoal.
Carbon Link founder Mr Ru Heartfelt said the project dubbed 'Arsenal Forest in Africa' is being implemented by Bore Green Umbrella and Carbon link for Arsenal FC.
He said they have been working with Bore Community-based organisation for the last 14 years in restoring the forest cover by planting tropical forest trees in the area.
So far, he said they have managed to plant over 3 million trees which is part of their move to fight the effects of climate change.
Heartfelt, who hails from Wales, said he has been helping the community by raising funds to implement sustainable development projects.
"I have been a tree planter planting trees to absorb carbon for many years since it was so common in the 90s. I have been planting trees in my home country and then some research came out of America that it was the world's tropical forests that are required for keeping the planet cool so I stopped planting trees back home in Britain and started planting trees over here in Kenya,' he told journalists at Bore village.
Part of his work, he said, was to persuade those in the developed countries on the need to support communities who are poor to protect their forest.
He said the Arsenal Forest for Africa came by luck as one of the volunteers in the project was producing some of the Arsenal match-day programmes and Arsenal requested them to plant trees to replenish the resources used in the programme that they publish for every home game.
Heartfelt said they prepared a proposal to the Gunners which was accepted and began planting 20,000 trees.
"Those trees will absorb an enormous amount of carbon over the next 25 years and they will also compensate for the paper used in the Arsenal match-day programme," he said.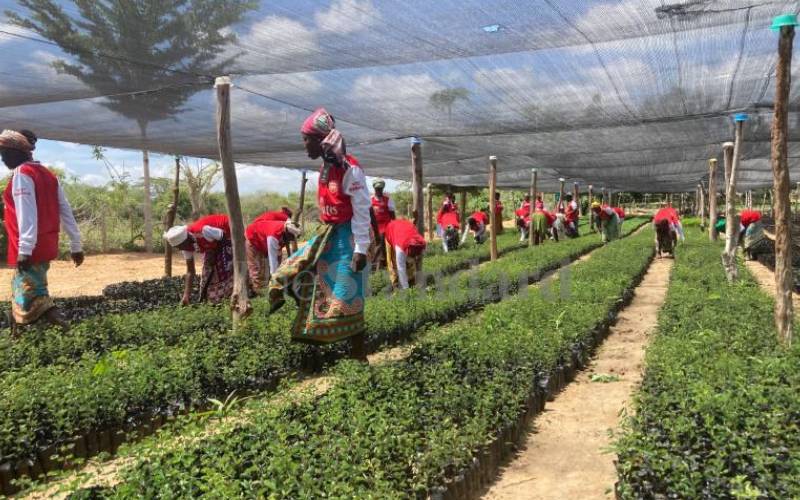 In the process, the project will provide jobs for locals through planting trees, clearing the bush and watering the trees.
Heartfelt said Arsenal also supports a local team in Bore Singwaya and gives it football kits which include boots and uniforms.
Heartfelt said the Gunners wanted to prove to their home supporters in Britain that they enjoy massive support in Africa and particularly in Kenya.
Since they started planting trees 14 years ago, he said the scale of planting has increased from 1,000 cashew nut trees every year to 1 million trees.
"That means we are having a bigger regional impact in this part of the Coast region. Up to now, we have planted a 3.9 million trees and we are currently supporting around 400 individuals in different ways," he said.
He also said they deliver free seeds to around 3,000 farmers and they are planning to provide seedlings to 460 local schools.
Most of the trees are drought resistant and in the case of the Arsenal Forest in Africa, they plant mostly neem trees which can withstand drought.
Alex Katana from Bore Community CBO said they used to plant 200,000 trees annually but the number has increased.