Residents, KWS in dilemma as rising lake waters push animals to homes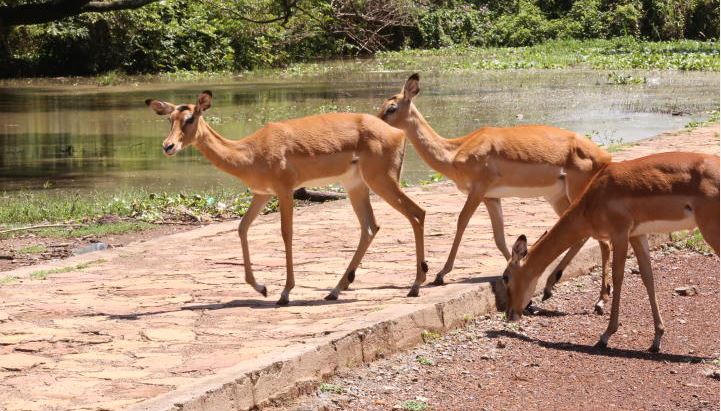 The Kenya Wildlife Service (KWS) could part with millions of shillings in compensation after the rising Lake Victoria waters forced wild animals to migrate into homes.
The parastatal is also counting huge loses after the surging waters submerged huge parts of its two popular national parks -- Kisumu's Impala Park and Ndere Island in Siaya -- threatening the lives of wild animals.
Senior KWS officials yesterday confirmed that four people have been killed by hippos and crocodiles in the past two weeks.
The latest victims are a 13-year-old girl killed by a hippo at Sango Rota in Nyakach on Thursday and a 30-year-old fisherman, Calmus Ochieng, mauled by a hippo in Mbita, Homa Bay County on Wednesday.
Dunga beach
The hippos are said to be moving into homes and feeding on crops because the grass they eat along the beaches has been covered by water.
The KWS yesterday said they have been receiving an average 100 complaints a month from people either bitten by snakes slithering away from the advancing waters or attacked by hippopotamuses and crocodiles whose habitat has been destroyed.
Villagers living around Dunga on the outskirts of Kisumu town have borne the brunt of floods and attacks by the animals.
One victim, Ken Abura, fled his home after he woke up early this week to find a huge hippo swimming in his flooded compound.
KWS records, seen by the Sunday Standard indicate that in the past three months the number of cases of human-wildlife conflict has rapidly increased to 300, with more than 100 reported a month.
The increasing number is a result of the rising water levels in Lake Victoria.
The rare phenomenon has left a trail of destruction, displacing wildlife, killing domestic animals, destroying crops and causing adverse human injuries.
Samson Onyango, a resident of Kapuothe area, says he has lost 10 acres of maize crop to hippos.
Mr Onyango, who made a report to the KWS, says the officials have assessed the level of destruction and promised to compensate him for the loss.
"The hippos and crocodiles make their way to my home, destroying crops and killing livestock. It's devastating and scary," he says.
Onyango says KWS officers scare the animals to get back to the lake, but they always return as soon as the officers leave with their guns.
"The wild animals have taken over our homes. The crocodiles and huge pythons are feeding on our livestock. We have neighbours who have been bitten by snakes," he says.
Slow compensation
Another victim at Usoma area, Ali Juma, protests the slow-paced compensation from KWS.
Mr Juma says even after reporting several attacks on his family by wild animals no action has been taken.
He says hippos have destroyed his 20 acres of rice fields and a baboon attacked and injured his son last week.
"No one has come to help me. I have been left with nothing. The hippos, crocodiles and baboons have wreaked havoc on my family and farm," says Juma.
He says deaths have been reported in the area and families of the victims are yet to be compensated.
Helen Oganda, a resident of Dunga, says two days ago a group of 10 hippos invaded her cowshed and killed 10 goats and 15 sheep.
The KWS reports show two people have been killed; one died in Seme from a crocodile attack while the other was mauled by two hippos at his home in Usoma area along the shores of the lake.
More than 100 domestic animals -- sheep, cows, goats -- have been killed by wild animals and huge chunks of crop fields destroyed by hippos.
But apart from staring at a huge amount of compensation to victims, KWS reported losing 30 per cent of its land -- tourism sanctuaries at the Impala park in Kisumu and Ndere Island -- to the raging lake waters.
The back flow of water has destroyed vegetation in the parks. It has also forced the closure of one of the best hotels in Kisumu, the Eco Lodge, located inside Impala Park.
Overwhelmed and desperate
KWS Deputy Warden for Kisumu County, Joseph Nyongesa, said the increasing water levels have led to the increase in the number of human-wildlife conflict cases.
Mr Nyongesa said his officers are overwhelmed and desperate on how to shield residents and their properties.
"We receive distress calls, residents want help. We are overwhelmed, with little to do to keep wild animals from invading people's homes and farms," he said.
Nyongesa said the most affected are residents bordering the lake, with the worst hit areas being Seme, Nyakach, Nyando and the outskirts of Kisumu town.
The official said every night they chase hippos from farms and homesteads sunk in water.
"Animals living in water swim to homes, assuming that they are still in the lake," he said.
A spot check at the Impala Park shows lake waters have risen 50 metres from the ground, destroying the breeding ground for many animals, forcing crocodiles, hippos and snakes to move to raised grounds, with the picnic sites and statuaries submerged.
Paul Omondi, the officer in-charge at Impala Sanctuary, says the flooding has led to a big decline in the number of guests visiting the park.
He says at its peak, the park receives up to 1,000 guests per day, which has now declined to hardly 20 guests per day.
"The eco-lodge and beautiful sceneries have been completely destroyed, and now no one wants to visit the park," Omondi said.
He said inside the park zebras and impalas have moved to different locations since their grazing ground has been filled with water and the mushy breeding ground for sitatunga animals destroyed.