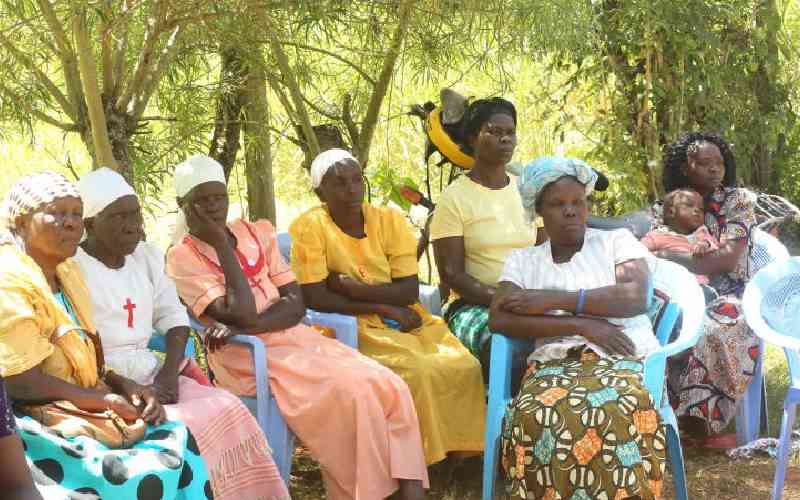 Two people are being held at Mbale police station in Vihiga County after a deal gone sour led to an alleged murder confession.
Angered by a client's failure to pay Sh20,000 as earlier agreed to accomplish the mission, the main suspect in the killing turned himself in to police on Sunday and confessed his crime.
Vihiga County Commander Benjamin Ong'ombe said the suspect told police he was hired to kill Violet Kahongeri in Sabatia constituency over unknown reasons.
He told officers manning the occurrences desk that he came to report a person who had contracted him to murder someone but could not pay him for the job as earlier agreed.
The suspect confessed that he stabbed Kahongeri, 43, on the neck, killing her on the spot last Sunday at Sahini village in Sabatia. But he got frustrated after the woman who hired him became reluctant to pay up.
Mr Ong'ombe said the suspect was immediately arrested and has been assisting in investigations into the matter.
"It was shocking that the suspect said it without mincing words that he murdered Kahongeri," said the police boss.
The suspect led the police to the scene of crime where Kahongeri's body was found lying in a pool of blood in an abandoned house.
"We could not believe him at first and decided to establish if he had committed the crime, only to discover the body at the scene he had mentioned," said Ong'ombe.
A knife was still stuck in the victim's neck when the police arrived at the scene.
The police combed the crime scene before taking the body to Vihiga County Referral Hospital Mortuary.
According to Ong'ombe, the suspect has been pushing the officers to instruct the second suspect to pay him his dues.
"He said he came to report after the woman who hired him failed to pay him and so she must be ordered to pay the Sh20,000 fee," he said.
Ong'ombe said both suspects are being detained at Mbale police station.
Police are yet to establish the motive in Kahongeri's murder. Linet Mideva, the elder sister of the murdered woman, said the woman who allegedly hired the hit man was well known to the family.
She told The Standard that the two have been friends and Kahongeri usually did house chores for the female suspect at a fee.
"We understand the suspect wanted my sister dead due to a debt," she said.
Related Topics