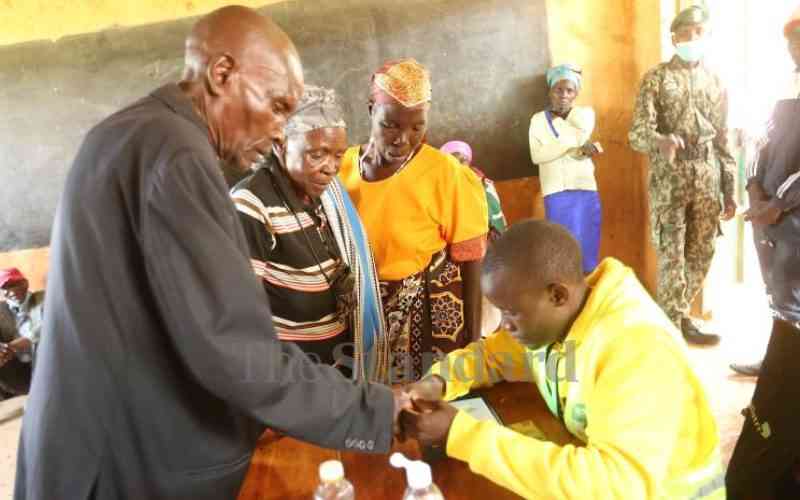 Several outgoing Members of County Assembly (MCA) candidates in Kakamega and Bungoma counties failed to recapture their seats.
In Malava sub-county, Kakamega County, five ward representatives out of seven were sent packing by voters among them deputy speaker Leonard Kasaya.
Others are Jason Lutomia (ANC) of Chimuche ward, who managed a paltry 1163 votes but lost to Geoffrey Sikolia who garnered 4614 votes.
Kefa Kefa Musiya of ANC defeated incumbent Lazarus Lucheveleli (DAP-K) to capture the East Kabras ward MCA seat. Musiya got 2387 votes against Lucheveleli's 2117.
In Manda Shivanga ward, David Kivishi of PAA garnered 2401 votes to win the seat initially held by Jacob Luvisia.
Voters in the South Kabras ward elected Josphat Wakukha (Ford Kenya) as their representative.
The newcomer got 4500 votes and managed to defeat incumbent Samson Tali (DAP-K) who got 1281 votes.
Former MCA in the area Bryson Sikolia (ANC) got 1548 votes. In Shirugu Mugai ward, Peter Wanami (UDA) garnered 1571 votes defeating Mr Kasaya (ODM) who got 1513 votes.
Those who retained their seats are Butali-Chegulo ward MCA Kevin Mahelo (UDA) who garnered 3595 votes and David Ndakwa of West Kabras (ANC) who bagged 4570 votes.
In Bungoma County, the majority of the MCAs were shown the door by voters who appeared to prefer fresh blood.
Most of them conceded defeat urging the winners to serve the people with dedication.
Bungoma township ward representative, Joseph Maguda of Ford Kenya lost to Jeremiah Kuloba of DAP-K who garnered 2506 votes. Mr Maguda got 2001 votes.
Okumu Majimbo (Ford Kenya), a combative politician conceded defeat after Cornelius Wanjala trounced him.
Majimbo garnered 2008 votes but they were not enough to guarantee him another term at the county assembly. The winner bagged 2833 votes.
In Vihiga, 16 out of 25 Members of the County Assembly were sent packing by voters paving the way for new faces.
ANC party suffered a setback after losing the majority of MCA seats to rival ODM party which bagged 10 seats with the former managing only seven seats.
The Progressive Party of Kenya (PPK), Democratic Action Party of Kenya (DAP-K), Maendeleo Chap Chap (MCC), United Democratic Party (UDP) and Ford-Kenya have one MCA elect each while three are independent.
The new look County Assembly guarantees governor-elect Wilber Ottichilo a smooth ride as he embarks on his second and final term as the county chief.
Dr Ottichilo had a rough time implementing his administration policies and survived censure motions in his first term because ODM had fewer numbers in the county assembly.
West Sabatia ward rep Henry Asava of ANC is among the MCAs rejected by voters at the ballot.
He was beaten by Frankline Gidali,28, who ran as an independent candidate.
Other independent MCAs elect includes Duncan Abudiku and Boniface Shanga of Muhudu and Lyaduywa/Izava wards.
The powerful deputy speaker and outgoing Jepkoyai MCA, Zakaria Mrefu of ANC were edged out by Caleb Ndolo of Ford Kenya.
ANC's poor show leaves the party in the unfamiliar minority territory in the county assembly for the first time since 2013.
Peter Atsiaya, one of the ANC MCAs, who survived the ODM onslaught in Vihiga said they would discharge their duties diligently and keep Ottichilo's administration in check.
The assembly will have a record of three female elected MCAs namely; Gladys Yalwala of Chavakali ward, Busali's Florence Kogode (ANC) and Central Maragoli's Pauline Amwata (ODM).
Related Topics