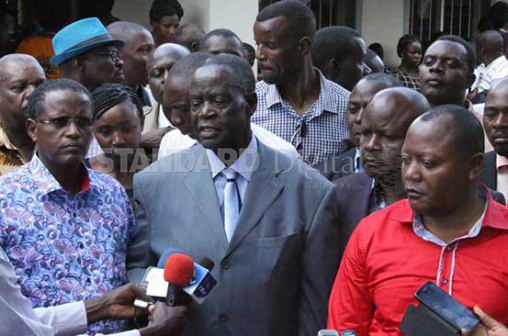 Allies of the ruling coalition in western Kenya have admitted that it is proving quite difficult to advance the interests of the yet to be unveiled Jubilee Party (JP).
And because of this, it may not be the right time to dissolve political parties with a strong foundation in the region and join JP which is touted to be the vehicle President Uhuru Kenyatta will use to seek re-election in 2017, Western leaders said.
"We have met challenges in selling the party in Bungoma. In fact if we dissolve our parties we will end up losing most seats to the Opposition in the next elections," Martin Nyongesa, the chairman of the New Ford Kenya Party in Bungoma County, told a consultative meeting in Kakamega last week
But JP steering committee co-chairman Noah Wekesa feels the leaders are not doing enough to popularise JP. "When I go to the State House to meet President Uhuru Kenyatta or in Karen to see the Deputy President, I find some leaders there but on the ground they have not uttered a single word to promote JP," said Dr Wekesa.
This lack of consensus on how best to promote JP is proving to be a major hurdle for Jubilee allied leaders who are serving in an area in which the opposition CORD has been dominant.
"It would be better to maintain our parties so that we can fight a common enemy in the next elections, but dissolving our parties will spell doom for JP. We are the ones on the ground and we have felt the heat," said Nyongesa.
JP's unpopularity is amplified when when those who want to promote the party are heckled in public gatherings.
Ikolomani MP Benard Shinali, who has publicly stated that he would support the ruling coalition, said he found himself in an awkward situation in Vihiga County recently when he was heckled by youths.
Donald Musi, The National Alliance (TNA) secretary in Kakamega County, however said the hostility arose because Jubilee-friendly MPs had not done enough to persuade opinion leaders at the grassroots.
"Elected leaders have ignored leaders at the grassroots and that is why we are finding it hard to sell JP in the region," said Musi.
But Wekesa was confident that the party would begin to make inroads. "There is nothing hard in popularising JP in Bungoma. Remember in 2002 we formed NARC and it gained momentum in Bungoma; in 2007 PNU, a new party, also became very popular in Bungoma," said Dr Wekesa.
To promote JP, local people have been told that a more receptive region would benefit from the commissioning of development projects. Jubillee supporters say some of these projects were mentioned by Deputy President William Ruto when he toured the region.
But Bungoma Senator Moses Wetang'ula has dismissed the dangling of the "development carrot" and reminded local people that work on these commissioned projects had not began. Last year, President Uhuru Kenyatta visited Kakamega County together with his deputy and pledged that some of the roads in the region would be tarmacked, among them the Lurambi-Navakholo-Musikoma Road and Ibokolo-Shianda-Malaha Road. However, work to upgrade these roads have not began.
The Opposition have asked their supporters not to accept tokens from the Government in exchange of support. "We pay tax in this region and it is our right to get services from the government. Jubilee has done nothing for the region to warrant our support," said Butere MP Andrew Toboso.
Related Topics