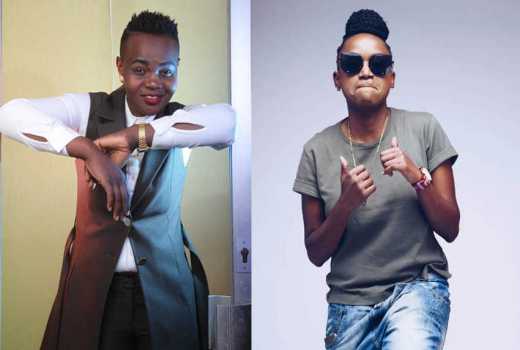 Newbie female artiste Sylvia Robina aka Rawbeen opens up about her music
The two artistes are no doubt talented and their chemistry in the video is deep
Rawbeena is shy as much as she tries to conceal it
Released at the beginning of this month, Romantic, is a cleverly done music video to an equally suggestive song and the two female singers bring out the message effectively.
"Hio number nikiipata, pataa, ile mchezo iko ndani/ Kwako nimedata, data kama nimekosa samahani/ Leo nikikupata, pataa ndani ndani/ Hivi kwako nimedata, data twende kwetu sehemu fulani/ This time I'm romantic/ This time I'm a one man chic. (If I get that number, the game will be on/I feel you, if I have made a mistake forgive me/ If I get you today, inside/ I feel you, let's get away/ This time am romantic/ This time I am a one man chic.)," Fena sings flirtatiously with her phone on her ear, Rawbeena picking up her cue on the other side as she too delivers her lines.
The two artistes are no doubt talented and their chemistry in the video is deep leave alone their striking resemblance and style; tomboys who love their shirts, jackets and trousers as well as shorts.
"I came back from Finland last year and found that Fena was riding high and so I asked her if we could do a collabo and she accepted. That is how Romantic was born. Let me say we had very creative studio sessions as the whole idea was conceived in studio," the visibly social Rawbeena tells Pulse.
On this day of the interview, she is donning black pants and a blue fully-buttoned shirt complimented with a golden chain and matching sports shoes. The session is lively and interactive, fast paced like the sips of drinks we are having at this luxury lounge called Level 7.
Rawbeena is also shy and as much as she tries to conceal it behind her tomboy demeanour, her bowed face and darting eyes say it all.
"It just art. It's just a song. And we have nothing going on. I had a different idea before I got to studio. Fena had been there before me and after recording her verse, she left. I tried to listen to it and thought; 'what on earth should I make of this one?'
I decided to take the cue and flow with the idea. When she came back and heard my verse, she was like 'we are game, this is a 50-50'," Rawbeena says before taking two sips in quick succession and teasing: "Leo nikikupata, pataa ndani ndani…". We both chuckle and pause.
"My work as a singer and songwriter is to creatively craft good lyrics and melodies that are dynamic and well-arranged. The visual element in every music video must be catchy," says the budding star who left Kenya for Finland two years ago to pursue her music and media career.
Two years ago, Rawbeena spent her days at the Kenya Institute of Mass Communication (KIMC) either in class or in the college radio studio where she used to host a Swahili show and present news.
On Sundays, she would frequent a friend's studio in Westlands where she would do demos on Sound cloud. One day, a Finish musician, Kide, approached her to do lyrics and melodies on a track that she had composed with youths from Pori Youth Workshop.
The project took her to Tanzania and before she knew it, owing to the lyrical prowess she showed, this became her visa and residence permit to Finland.
"Things didn't always look up for me. I remember back then, making rounds to friends' houses just to get a place to sleep. Sometimes I would be unlucky and go without fare and food.
I made friends with street kids, we would walk the streets of Nairobi all night and end up sleeping at Uhuru Park during the day. These experiences made me 'man-up' and harden up as I had to take responsibility and shape up my future.
Now, with my breakthrough, I need to work harder to make my dreams come true," remarks the rather humble singer who was orphaned at the age of six.
"I remember sitting in a cafeteria next to Kenya Cinema at 3am because I was homeless. At the end of everything what matters is not the process but the results. I am a self-sponsored artiste and I work hard to pay for my recordings," she concludes.
Related Topics