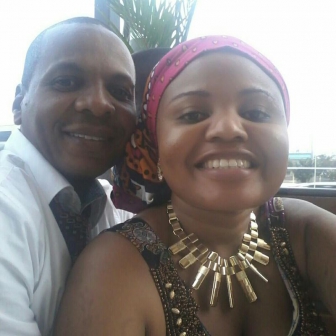 Former Miss Kenya Cecilia Mwangi recently dropped a bombshell when she let it be known that she had parted ways with politician, Danson Mungatana, the father of her baby girl.
This was just a year after the Ahadi Kenya Trust Ambassador announced that their wedding was on the cards.
As Cecilia, who became famous for her anti-jigger campaign, was announcing the severance of her relationship with the former assistant minister and Garsen MP, TV anchor Mwanaisha Chidzuga was posting thinly veiled online barbs to the effect that she has never been any woman's co-wife and had not at any point shared her husband with Cecilia.
"Kindly note that I Mwanaisha Chidzuga was never a co-wife to one Cecilia Mwangi. Please stop dragging my name and that of my family into this madness," she wrote, adding that her relationship with Mungatana was as tight as ever.
"Hapa mapenzi tu...wenya shingo za feni jipeni shughuli ((It's all about love here... haters should find something better to do )" Mwanaisha wrote on her Facebook account complete with a selfie of her with Mungatana.
The ping-pong between Cecilia and Mwanaisha about who is who in Mungatana's love created a lot of social media interest, coming in the wake of the enactment of Marriage Act that allows polygamy.
The Nairobian reached out to all three - Mungatana, Mwanaisha and Cecilia. The latter however declined to comment on what she termed her personal life with Mungatana, who is also a former chairman of Kenya Ports Authority.
Mungatana and Mwanaisha had no qualms discussing their relationship when The Nairobian sought their comment.
Mwanaisha lovingly introduced the husband as mla mamba (the crocodile eater), before kissing him in the lips.
"What do you want to know?" Mungatana asks as he laughs. Does he acknowledge a relationship with Cecilia? What happened to their alleged wedding last year? Is Cecilia's baby his? What is his relationship with Mwanaisha Chidzuga? What about his first wife? The questions just come tumbling.
Mungatana, a lawyer by profession, just laughs and says he's not ready to answer all the questions.
But when pressed to comment, he simply says, "Res ipsa loquitur (the facts speak for themselves)," as he pulls Mwanaisha's hand and playfully strokes it.
Mwanaisha, looks happy as she toys with diamond and gold rings on her ring finger.
Could it be that Mwanaisha and Mungatana wedded at the Attorney-General's office as alleged by our sources? Yet, another question goes unanswered by the adoring couple.
Mwanaisha says she's done talking about the matter and just wants to move on.
"Nothing can shake the love that God has given us as a family. What is being said outside will never shake, change or affect me. We shall continue to raise our family as God continues to give us strength," she explains.
She declines to be drawn to any discussion touching on her relationship with Mungatana's first wife, also a lawyer like Mungatana.
The last time Mungatana was spotted with his estranged wife was around 2003 at the Nairobi Pentecostal Church in Karen where they used to frequent.
"I remember them," said our source. "They would park their car at a specific spot. She was a very humble woman."
Another source claimed that Mungatana and his first wife once co-owned a law firm in Mombasa before he joined politics. He has three children from his first marriage that was said to have been strained.
Mungatana has never acknowledged his relationship with Cecilia. Sources close to the couple claim Mungatana actually left her two years ago.
Our sources claim that being cold-shouldered did not go down well with the former beauty queen who is said to have employed all manner of tricks to get him back to no avail. "That's why he (Mungatana) doesn't like talking about her as he's tired of her circus," revealed our sources.
Does this explain why Mungatana was conspicuously missing during Cecilia's mother's burial last year?
But Mungatana has had no problem flaunting Mwanaisha. He used to pick her when she was still with KTN and would even carry her handbag to the parking lot
At a function to launch a business associated with Mwanaisha in 2015, he fondly referred to her as his wife and it's also rumoured that he bought her the house they are currently living in.
Related Topics