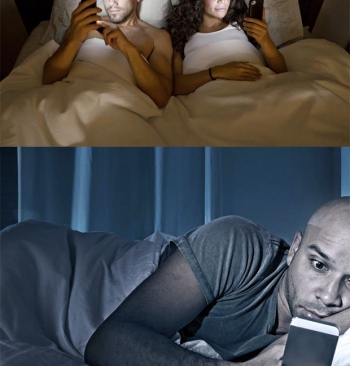 The mobile phone has gradually turned Kenyans into techno-slaves. Most can't live without it. They alight from matatus and drive back from long distances once they realise they have forgotten the phone at home.
A new research commissioned by The Nairobian and carried out by Consumer Insight reveals the deepening rift on social skills and human interaction brought about by addiction to cell phones.
Mobile phone 'slavery' has led to a 'voiceless society' in which people communicate via gadgets and not verbally. This has a had an impact on romance, dating, family life, religion, friendships and partying.
To most Kenyans, almost nothing can work minus a cell phone: zero contacts or messages and for those with smart phones no breaking news, online chats or checking mail and snooping on other people's profiles and latest posts on Facebook, WhatsApp, Twitter and Instagram. But the most affected area of the majority of Kenyan's lives is its impact on relationships at home, with family, relatives, friends, at the workplace, over dates and even in public transport; it's no longer easy to make friends with fellow passengers hunched over scrolling through their phones when not listening to music with phones plugged into their ears. The workplace has not been spared since the easiest way of avoiding colleagues is diverting attention to your cell phone. This has led to increased individualism as most families on weekend lunches go silent as everyone is chatting on their mobile phones. The family dinner time is no longer the place for catching up with blood relations: Everyone has one hand holding the spoon, the other returning messages. Siblings and other relatives don't necessarily have to meet one-on-one and instead have created WhatsApp groups from where they 'meet,' exchange ideas, opinions and photos of what's going on in their lives. Thespian and Tusker Project Fame reality show judge Ian Mbugua blames the society for not setting tough ground rules for the youth. "How the youth behave solely depends on ground rules. As parents we need to make it clear that family time and outings must not be substituted by hours on phone, "Ian a teacher at Brookhouse agrees that institutions should be very strict when it comes to mobile phones access in school. "I can only imagine what would happen if learning institutions were not strict about access of phones in classes. It would be chaotic. I don't think there would be any learning going on, "he says. Radio presenter and social media expert, Joe Muchiri, told The Nairobian that he's an online addict and his phone is a vital appendage. "I am one of these people who spend most of their time on phone instead of socializing. I even have a huge power bank to ensure that my battery never dies." And Muchiri agrees there is a social downside to it. "People no longer talk to each other in night clubs. Girls spend hours and hours getting ready only to get to the club and spend the whole night on phone. There is nothing much."
Related Topics