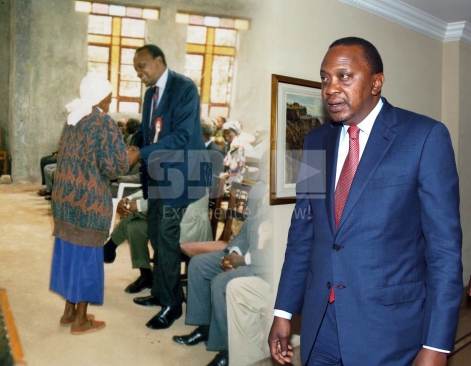 Priscilla Njeri died in May 2015. She was 100 years old. She had been waiting to meet President Uhuru Kenyatta for a handshake since she turned 90.
Njeri met Uhuru, then a fiery opposition leader in March 28, 2004 at a church fundraiser in Kamburu, Lari, Kiambu County and after a hearty chat Njeri promised to pray for Uhuru until he became the president.
"She told Uhuru not to worry he will one day clinch the powerful seat. She promised to pray for him every day and I can attest she kept the promise," says Michael Kamau, her grandson.
On the same day Uhuru, accompanied by politician Charles Keter promised to pay her a visit but that was never to be.
"During the fundraiser at St Jude Catholic Church I was the emcee and I recall Uhuru and Njeri having an exciting chat in church. It took about two minutes. The congregation was excited. Uhuru had promised her something," recalls Njuguna Wairaya, a church member. Perhaps the pledge escaped him but Njeri, according to his immediate kin kept asking when Uhuru was coming.
"All she wanted was a handshake from him. When she was weak and unable to move around she thought everybody coming to visit her was accompanied by Uhuru," said Kamau, adding Uhuru could honour Njeri's wishes. "He can lay wreath on her grave".
Njeri had 40 grandchildren, 43 great grandchildren and five great great grandchildren.
— James Mwangi
Related Topics