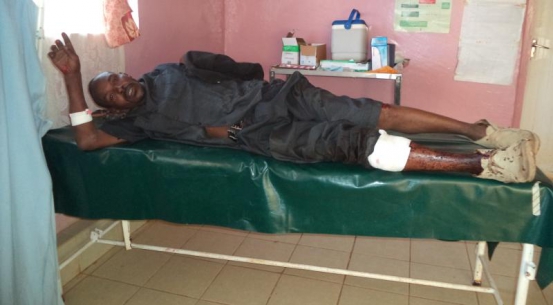 Senator Gwendo's bodyguard has denied shooting Charles Kimutai Korir in the right leg after a boda boda he was reportedly riding on hit the senator's car from behind.
KImutai was allegedly rushed to Rukuma Health Centre where he received first aid treatment before being transferred to Tigoni Sub-county Hospital to have a bullet allegedly lodged in his leg removed.
"Many vehicles were moving towards Nairobi, the rider overlapped, but accidentally hit the bumper of the Prado ahead," claimed KImutai.
He claimed that the rider lost control of his motorbike when he heard the gunshot and landed in a ditch.
According to Lari police boss Alfred Makoma, the motorcyclist ran into a nearby nappier grass farm to hide, leaving his bleeding passenger and the motorcycle in a ditch.
It is reported that Senator Gwendo alighted from her car, asked where the rider had gone to before leaving to report the matter at Kimende Police Post.
The police maintain that the bodyguard had no intention of shooting the rider or his passenger, but was aiming at the rear wheel of the motorcycle because the rider failed to stop.
"Drivers and motorcycle riders ought to stop whenever an accident happens. But in this case, the rider didn't stop," Makoma said.
The OCPD explained that the bodyguard recorded his statement saying he wanted to stop the motorcycle so that they could question him and establish the motive behind him hitting their car and fleeing.
"The motorcycle was towed to Kijabe Police Station for inspection as we conduct investigations, but the rider has gone into hiding," said Makoma.
-John Karume
Related Topics