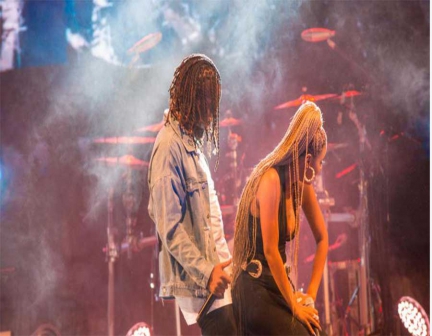 Talks are already underway to have the fiesta in Mombasa
Fiesta has previously hosted Jay Z as the main act where reportedly 50,000 people attended from all over East Africa
Fiesta has already moved on to other East African countries including Rwanda
Vanessa Mdee gave a raunchy performance with RnB star and ex-boyfriend Jux much to the amazement of the revellers in Dar es Salaam last weekend during the much-hyped Fiesta Festival.
There was uncertainty as to what time the show would end on the background of the local government's instructions that all shows held at the venue, Dar's Leaders' Club, would be required to end by midnight as from this month.
However by 9 pm, Clouds Media Group, founders of Fiesta Festival, announced through their online platforms that the event would be allowed to go on till the wee hours of Sunday morning, a directive from President Magufuli himself.
Fiesta has already moved on to other East African countries including Rwanda Fiesta and talks are already underway to have Fiesta in Mombasa next year. Uganda, Zambia and Burundi are also on the radar for the Fiesta Team.
Fiesta has previously hosted Jay Z as the main act where reportedly 50,000 people attended from all over East Africa. The show has also hosted 50 cent, T.I, Mya and Rick Ross and many other international acts. This year. However, the show had 100 per cent local artistes.
"We're already in talks with Governor Joho to have the show in Mombasa as from next year. It was supposed to be on from this year but the political mood in the country was tense," said Joseph Kusaga, CEO and Founder of Clouds Media Group.
Related Topics