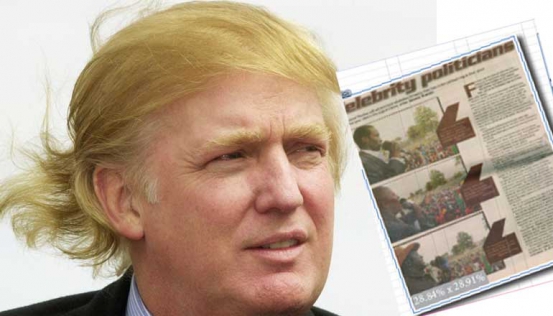 The world over, celebs have sought political office. Before The Donald, there was The Terminator.
And before The Terminator, there was The Great Communicator; better known as Ronald Reagan.
In Madagascar, there was Andry Rajoelina, a radio DJ who turned the tables on President Marc Ravalomanana.
In Liberia, voters red-carded football star, George Weah. And in the northern Caribbean, Haitians rejected the presidential overtures of music star, Wyclef Jean.
Barack Obama sold Americans hope, and they bought it. The Donald galloped on the back of a horse called hype, and in the carriage he carried the aspirations of American's "forgotten folk". Can the local celeb who can pull a Donald Trump please stand up? Pin. Drop. Silence.
Pulse's main feature for November 16, 2007 was titled: 'Celebrity politicians".
"Four years ago the State of California, USA picked one of Hollywood's biggest celebrities, Arnold Schwarzenegger, as its Governor.
The Austrian-born actor, known for great films such as the Terminator, had never held public office before. However, he won the race hands down," the article read in part.
"It seems the fight for public office has caught up with our local actors, comedians, musicians and other showbiz players as the clock ticks towards next month's General Election."
Celebville is a shallow end pool. Kids' play. Politics is a cesspool. Which means that any celeb who wants to be the resident at State House must be ready to get dirty.
In 2007, comedian John Kiarie aka KJ, one third of the Redykyulass comedy group, was among celebs who were making forays at public office.
Others in the quest for parliamentary seats were Peter Kaimenyi aka Kajairo, Maurice Ochieng aka Mdomo Baggy, "His Majesty" the Mighty King Kong and Mustafa Iddi.
None of these celebs' bids were successful. "We have been gearing up for positions of responsibility," Mdomo Baggy said at the time. "We don't want to complain about bad governance from the sidelines ... We believe it's time for a generational transition."
Here's what's up, Mdomo Baggy. Leadership is not given. Never has been. Never will be. Leadership is taken. It's appropriated. Wait for these old farts to pass the bloody baton, and they'll croak with it in their doggone death grips. Or they will bequeath it to their self-entitled brats. Heck, these hoary hoes aren't loyal.
Kajairo had issues with political parties, which made it difficult for young aspirants to register for the nominations due to the exorbitant fees demanded.
"It's unfair for the political parties to ask young and financially limited aspirants to pay huge sums of money ...before one gets a nod to enter the race."
Kajairo and Co; here are what I think – (that is, taking The Donald's triumph into account) – a celeb needs to mount a successful presidential campaign.
Big mouth and name. Deep pockets. Be your own boss. Keep it real. Humongous guts. Now, can the local celeb who has the above qualities please stand up and drain the cesspool? Mic. Drop.
Related Topics