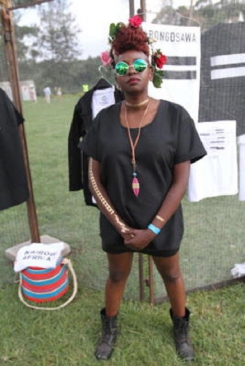 The minute we walk into the venue, the captivating aroma of different foods wafting through the air captures our attention, as do the beautifully dreadlocked men doing some breath-taking artwork on trailer containers. There is feel-good music and a fusion of all these in one venue. The weather alternates between windy, sunny and cold, Africa Nouveau is beautiful, the different faces from different races; the complete definition of life happening.
After grabbing a quick burger, we walk on over to the brains behind it all, the ever-energetic Muthoni Ndonga, better known as Muthoni DQ, for she is the Drummer Queen - at least musically speaking.
So, what happened to Blankets & Wine? Is it true that Koroga, the new kid on the block, killed B&W?
"Koroga festival is a direct imitation of Blankets & Wine, done by my former partners," Muthoni says, clearly not in the mood to mince her words;
"And to be honest, those are just old ideas. What we're on to is way bigger than Koroga and Blankets. We have revolutionary ideas right now. It was time to transition into something better. We are working with the most progressive musicians, visual and digital artists, DJs, producers, fashion designers and foodies. People are afraid of growth but change is a must. It's a way of life."
We move on swiftly to what this event is all about and what it took to make it a success; what's so new about Nouveau?
"Africa Nouveau is a festival that accommodates everybody. Of course like everything else, there were challenges. The timelines, organising the artistes, taking care of the logistics, name it, but I can tell you this, there were no downsides, just lessons," MDQ explains says adding proudly that the event met all her expectations.
We leave her and go out to see for ourselves whether this event will live up to Blankets and Wine, which was started six years ago to showcase prolific artists and live music performances. So successful was Blankets that it spread to Kampala, Arusha and Kigali, before going on an unexpected hiatus.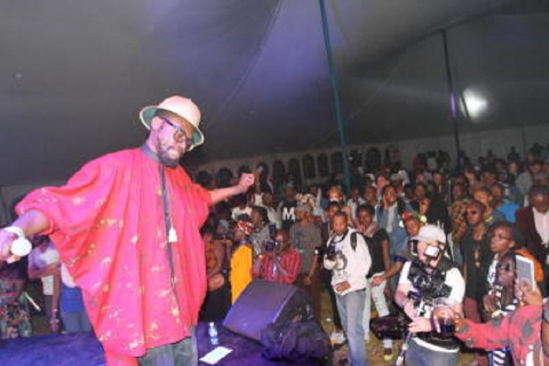 Africa Nouveau has partnered with Action 2015 and CEFA-Kenya, an Italian NGO, to utilise artistry and to send a message to leaders to hasten the social, economic, political and ecological transformation in Kenya.
The project seeks to work with various artistes such as Just a Band, Muthoni, Red Acapella and Fena, as well as DJ Satelite from Angola, Fantasma from South Africa, Jojo Abot from Ghana and Boddhi Satva from the Central African Republic.
Apart from the artistes, the event has exhibitions from different fashion designers, including Made with Love, a line by Bongosawa, a Nairobi-based creative collaboration studio that also created the Africa Nouveau visual material, which features throughout the event.
Another prominent designer is Angelsmile House of Design, which specialises in customised pieces and has exhibited a variety of customised wedding gowns including a one-of-a-kind, paper-stitched centrepiece dress, which drew everyone's attention.
Others include 2 Many Siblings, a brother-sister duo of style enthusiasts from East Africa and Mofti a retail store that stocks African fashion pieces.
On the grounds, there was a music stage, solar garden and the Twilight Zone. The arrangement allows various artists to showcase their work. The night ended with a performance by the extraordinary DJ Cortega.
Related Topics