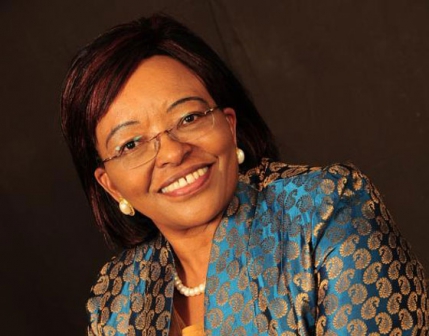 It is impossible to miss the awards that adorn the wall and table as you walk into the board room next to her office. "I just won the regional Health and Veterinary Sciences award and I will be up against other winners for the final award to be held in South Africa this November," Dr Betty Gikonyo says of a recent award that recognises the best professionals in different fields.
A true woman of substance, her accomplishments and contribution to society could fill up volumes of books. She is a mentor, author (her autobiography is called 'The Girl Who Dared to Dream') founder of the Heart Run Foundation, a joyful church member and recipient of two presidential awards - the Silver Star in 1998 and the Moran of the Burning Spear in 2008. Then there is the congressional recognition from the House of Representatives in the US for her opening speech, which she wrote and read in 2006 when Karen Hospital was opened.
"Money is good but it's not everything. I love to help and teach," she says with regard to the charities she supports in cash and in kind.
She has her father to thank for her station in life. Recognising the importance of education for boys and girls, Dr Gikonyo's father, Difather Mwangi Ngure, who was a no-nonsense disciplinarian made sure all his 12 children were educated.
"I lived the normal life of a village girl walking bare foot, fetching water, cooking githeri in a pot and doing normal house chores. I was the last born of my mother. I grew up in a polygamous family and we all lived together. My father ensured all his children went to school, both boys and girls. We all learnt the same skills. We had only one bicycle and we all learnt how to ride it," she recalls with a smile.
Betty went from a village school to Alliance Girls High School. At just 13 years of age, she boarded a train for the first time, bidding her parents goodbye at the station. After high school, she was admitted to Nairobi University where she read for a degree in medicine. Five years later, in 1975, she was posted to the Nakuru Provincial Hospital where she interned as a medical officer.
''I went back to Nairobi University for my postgraduate studies and I qualified as a pediatrician in 1981. A year later I went for further specialisation in paediatric cardiology at the University of Minnesota. My husband, Dr Dan Gikonyo, was studying there too. He is a cardiologist. We came home in 1986 to start our own practice," she shares. "You can trace his steps exactly like mine. We're both cardiologists but I'm for children and he is for adults," Betty says.
After many years in private practice and working in a number of different hospitals, Betty and Dan had a shared vision to start their own facility.
"We started thinking we could set up a hospital like what we had seen in the US, with good equipment and trained personnel so we spoke to some friends. Some people did not understand and they told us hospitals are not built by doctors but by government and NGOs. They told us that there were enough hospitals in Kenya and that we were wasting our time," Betty says. "What we really needed was to translate our idea into a business plan so that we could take a loan. Because we wanted to borrow a very huge amount of money we got a lot of rejection from banks. At one point we spent quite some money getting doctors together at Serena Hotel to float the idea and they never responded. But finally 20 doctors came around," she says.
Together with a team of other professionals including lawyers and even a pastor, they approached several banks that refused to fund the project. With the equity they raised as a group, they took a leap of faith and went ahead. And in 2003 construction on the hospital began. "After they saw we had taken the risk and put our money in the project, Kenya Commercial Bank did an assessment and gave us a seven year loan," Dr Gikonyo says.
"Today, we are a profitable enterprise. We broke even and managed to pay back the loan. We see very many patients, which means we have to offer only the best and not just here in Karen. I really need to stress that we have many satellites around the country because many people still don't know. We started the first satellite in Nyeri town in 2008 and we have facilities in Meru, Karatina, Nakuru, Ngong, Rongai and Kitengela. Our satellites are more affordable because we charge less while still offering the best care," she says.
Because the base hospital in is the leafy suburb of Karen in Nairobi, there is a perception that it is a hospital for the rich. "We dared to bring a business to the affluent part of town. But this community is small so we accommodate different people. At the end of the day it is like walking into a supermarket, you only put what you can afford in the basket. Same thing here. But is doesn't mean we are expensive. The reason some may feel that way is because we pay high taxes for drugs and equipment. Someone has to pay for it and unfortunately it is the patient. We have loans to pay because the machines are very costly and we have to make a profit at the end of the day. Our doctors and staff have to be paid," Dr Gikonyo says.
Because the good doctor is so busy, you will usually find on her laptop, even at home. And although she loves to read and is always surrounded by books, she rarely finds the time to settle down with a good book. She prefers to spend her free time with her family and grandchildren. "I have three children. My eldest son Anthony is a cardiologist and my daughter Juliet is a general physician. They both work at the Karen Hospital. Then my third son Eric is a writer. He has published poems," she says proudly.
Related Topics