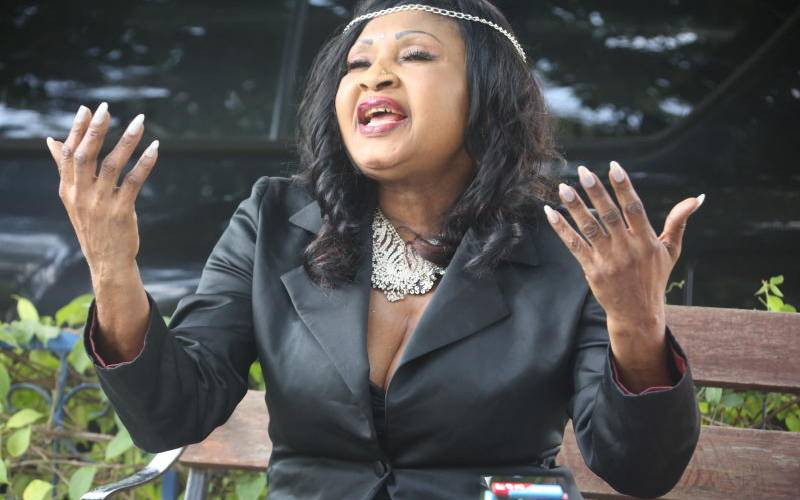 The Queen of African Rumba Mbilia Bel is in the country for a show.
She came, saw and conquered the music industry before establishing a name as the undisputable queen of African Rumba. Born Marie Claire Mboya Moseka, multiple award winning musician 66-year-old Mbilia Bel was born, raised and schooled in DRC Congo. She quit school at a tender age in 1977 due to her passion for music.
Years later, Mbilia who was determined to succeed where her predecessors had failed, inspired and mentored by two of Congo's best artistes, the late Pascal Emmanuel Sinamoy popularity known as Tabuley Roserou, founder and bandleader of Afrisa International, alongside Niko Kasanda and Sama Nguana.
Mbilia began her music career under Sama Nguana, before moving to Tabuley's Afrisa International, bursting into the limelight. Tabuley was to later become her first husband. She became the first African female musician to be crowned with the prestigious title of transcontinental diva.
Mbilia is known for her combination of stunning looks, mellow voice and tremendous agility sure to steal the hearts of fans with her songs such as Nadina, Eswio Wapi, Beyanga, Ibeba and Boyaye with Tabuley in the 1980s.
Dubbed Africa Night, July 9 show, the much anticipated event courtesy of locally based Congolese promoter, Nsana Promotions, will be held at the Carnivore. The musician who doubles up as singer, vocalist, bandleader and dancer will be accompanied by her 19-member band, Afrisa international.
"My fans will be entertained with my evergreen hit songs, including my latest 2021, release Makofi Mandomba Madi," she said on phone.
The mother of one, who lists Kenya among her most favourite destinations having staged several major concerts here in the past, promises to keep coming back. Her last performance was four years ago, when she teamed up with the late General Defao and released a collabo. Copinage.
During her last visit to Kenya, four years ago, she reached out to women inmates at Langata Women's Prison, with her entire entourage. She says given a chance, she would do it again, adding that female inmates occupy a special place in her heart.
Mbilia who quit Tabuley's band in 1987 to embark on a solo career says her latest release, Makofi Mandomba Madi, produced last year has been well received by music lovers.
She has lots of praise for the late Le General Defao, whom she describes as Africa's best. She says although physically gone, he leaves behind an unforgettable legacy.
Related Topics