Title: The Trail Of Mercy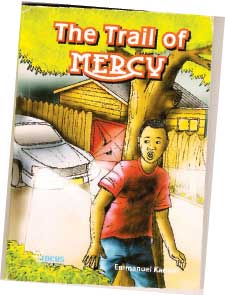 The Trail Of Mercy
Author: Emmanuel Kariuki
Publisher: Focus Publications Ltd
Year of publication: 2012
Available in all book outlets
Reviewer: JOHN KARIUKI
There is no dispute that Emmanuel Kariuki is emerging as a prolific writer, rubbishing the notion of a literary desert in the region.
In addition to nine children's titles, Kariuki has authored four teenage fiction books. These are The Salem Mystery, The Ole Sepei Mystery, The Red Coat, and the latest one The Trail of Mercy.
The Salem Mystery won the Jomo Kenyatta Prize for Literature in 2003 and The Red Coat was listed for the IMPAC Dublin Literary Award for 2010.
In The Trail of Mercy, Kariuki delves into the inner city themes like street gangs, crime and deception.
This story, told by two youths, Morris and Susie, starts at a youth club in Bandani estate where they live.
Voluntary work
The protagonists are mandated by other youths to scout for an institution where they can do voluntary work.
And this is how they come to discover a little known children's home tucked in a corner of Bandani.
The director, mama Mercy, has no time for them because they have no money to fund projects.
Their plea to do social work like cleaning the home and playing with the children is turned down.
Lately one home for disadvantaged children had been in the news for all the wrong reasons.
Its directors had been keeping their charges in subhuman conditions and minting millions of shillings off them in donations.
Perplexed, the pair of Morris and Susie sets out to learn more about mama Mercy's little outfit.
The urgency of one child, Musa, to make contacts with them over their brief visit makes this task a priority.
And this quest brings Morris and Susie to a brush with danger in a chase that ends in a shattering climax as good prevails upon evil.
Suspense-filled text
The Trail of Mercy is fast paced, well written and suspense-filled, and is bound to excite the intended readers-teenagers.
This novel has been approved by the Kenya Institute of Education for sale in schools.
It is now included in the Orange Book, a catalogue of approved publications from which schools are obliged to buy titles.
Kariuki manages to expertly juxtapose the story of Solo, a small time con, in the narrative of Morris and Susie.
Clear antics
Solo's tricks sucker in the easily impressionable Jessica.
But his antics are, nevertheless, a clear and present warning that fits well in this brilliant urban tale.
As in The Red Coat and The Ole Sepei Mystery, The Trail of Mercy drives home the point that the youth must be proactive in ridding society of evil.
This book uses the modern setting in Bandani, which could be any Kenyan suburban estate.
It elegantly includes many characters whose small roles build rather than obfuscate the protagonists'.
Kariuki is certainly getting better with time in story telling.
Related Topics